Monday/Tuesday blog
I assume most readers know the following well-known quote;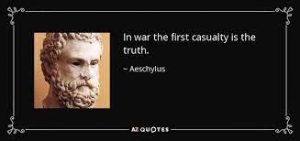 I mention this because I'm becoming increasingly concerned at the way the Russia/Ukraine situation is being reported by the British press.
But let's start with the 1962 Cuban Missile Crisis
Who started the Cuban Missile Crisis?
If I remember correctly, the narrative we're given in the West was that the evil Soviets starting positioning nuclear missiles in Cuba putting them within reach of major US cities. However, what tends not to be mentioned was that the Soviets did this in response to the US putting Jupiter ballistic missiles in Italy and Turkey. Moreover, the Cubans were keen to have Russian protection following the US-backed 1961 Bay of Pigs invasion.
After several days of tense negotiations, an agreement was reached between Kennedy and Khrushchev. Publicly, the Soviets would dismantle their offensive weapons in Cuba and return them to the Soviet Union, subject to United Nations verification, in exchange for a US public declaration and agreement to not invade Cuba again. What is not so well known is that secretly, the United States agreed that it would dismantle all of the Jupiter medium range ballistic missiles, which had been deployed in Turkey against the Soviet Union.
So, who really started the Cuban Missile Crisis?
Who started the current Russia/Ukraine crisis?
From what little I remember, when the Soviet Union agreed to the reunification of Germany in 1990, the then US Secretary of State James Baker did mention in a conversation with Soviet leader Mikhail Gorbachev that NATO's military jurisdiction was not expected to extend beyond Germany's eastern border.
A year after German reunification, the Soviet block collapsed. Taking advantage of Russian weakness, NATO began aggressively hoovering up countries that had previously been part of the Soviet-dominated Warsaw Pact – Poland, Hungary, the Czech Republic, Bulgaria, Estonia, Latvia, Lithuania, Romania, Slovakia, and Slovenia. And now NATO is encouraging two countries bordering Russia – Georgia and Ukraine – to join the NATO military alliance.
There was no formal agreement made in 1990. But recently Putin referred to what he believed was an understanding in 1990 "We said not an inch to the east – that was a NATO guarantee in 1990. So, what became of that? They fooled us. We've seen five waves of NATO expansion," Putin said in his annual press conference.
The toothless West?
NATO's continued expansion eastwards towards Russia's borders was all fine and dandy while Russia was an economic basket case, China was a poverty-stricken Third-World dump and the West, particularly America, was all powerful.
But things have changed. China is aggressively and successfully working towards replacing the US as the world's major power, Russia has rebuilt its economy by selling its vast natural resources and the West is collapsing in self-loathing, cultural wars, net-zero stupidities and unrepayable debt.
So, Putin has decided to get into bed with Xi's China and face down a weakened West by demanding assurances that Ukraine and Georgia will never join NATO
Beating the drums of war?
This brings me to the way the current Russia/Ukraine problem is being reported in the British press. Obviously I haven't read all the reports. But the main ones I have read in the Times, Telegraph and Daily Mail make no mention of the reason the conflict has arisen – NATO's expansion towards Russia's borders. Instead they all seem to focus on what an evil tyrant Putin is and vilify Putin's supposed "henchman" Russian Foreign Minister Sergei Lavrov.
Most articles I've seen are the kind of simplistic jingoistic nonsense that would have been appropriate at the height of the last Cold War. But I have not found any balanced attempt to explain the background to the current crisis.
For some reason, the British press seem to be eagerly beating the drums of war.
Thank heavens for Fox News
Here's a shortish (9 minutes) piece from Tucker Carlson on Fox News. The best bit is at around 4 minutes where he interviews Tulsi Gabbard an American politician and United States Army Reserve officer who served as the U.S. representative for Hawaii's 2nd congressional district from 2013 to 2021.
In spite of being a Democrat, Gabbard has some pretty clear views on why the US seems to be hurtling towards a new Cold War with Russia: