Monday/Tuesday blog
A lively discussion?
Last time I wrote about the 'miracle' vaccines, there was quite a 'lively' discussion.
First, let me make it clear that I'm not an anti-vaxxer and I have had both my AstraZeneca shots. I suppose I'll also have the booster shot.
However, I believe there are some issues that should be discussed openly:
Issue 1: It's clear that the vaccines were rushed into use without any studies of how long they gave protection. That's understandable given the urgency to slow the spread of Fauci's plague. Now we're told we'll all need booster shots. But again there is no data showing the level of adverse effects from the booster shots nor how long protection from the booster shots will last. Will we need boosters every year? Or every 6 months? Nobody knows
Issue 2: The adverse effects of the vaccines have been significantly under-reported. The fact that The U.S. Food and Drug Administration (FDA) is requesting more than a half-century (55 years) to review and release information to the Pfizer-BioNTech vaccine to the public should be raising some red flags to all but the most dedicated pro-vaxxers
https://www.dailymail.co.uk/health/article-10222035/FDA-says-need-55-YEARS-make-vaccine-related-information-available-public.html
Issue 3: I can accept that all over-50s and the vulnerable should get the vaccines. But given the potential adverse reactions, given that natural protection is more effective than vaccination and given the very low mortality in younger people from the Wuhan plague, I'm troubled that we're now being told that children as young as five need to be vaccinated:
Issue 4: Even more troubling is the news that vaccines will become mandatory in some countries and that in other countries, those refusing the vaccines will be stigmatised, persecuted and treated like lepers. Have we forgotten what happened in Europe only 80 years ago?
Issue 5: Perhaps most troubling is the almost total lack of interest shown by our rulers and the compliant mainstream media in discovering how the Wuhan Chinese plague started. Why is nobody in power at all motivated to reveal the origins of the worst calamity to hit mankind since WWII?
Issue 6: The fact that the police in a normally peaceful country like the Netherlands are now using live ammunition against those protesting against the vaccines and lockdowns should be a worrying sign that we have crossed a line from democracy to tyranny that nobody would have believed possible even a few weeks ago.
I would never claim to have the medical knowledge to take a position on any of the issues around how the plague started and how the 'miracle' vaccines were developed, introduced and now (in many countries) imposed. But they do raise troubling questions.
Anyway, if the 'miracle' vaccines are so wonderful at preventing both infections and serious illness from the Chinese military lab-leaked plague, why are the 70% or so of people who have been vaccinated so worried that maybe 3 in every 10 people don't want largely untested chemicals developed (apart from the AstraZeneca vaccine) using largely untested new technologies injected into their bodies?
One further issue also troubles me. It is obvious that the Big Brother propaganda and coercive methods being used by politicians and the compliant mainstream media to bludgeon us into giving up our freedoms to force us into cowering compliance with the vaccination programme will next be used to similarly force us to give up our freedoms and our quality of life to supposedly 'save the planet' from supposed 'catastrophic man-made climate change'.
Will we submit? Or will there be a "V for Vendetta" uprising against the one-world-government ruling elites?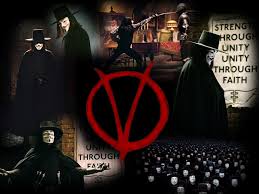 Mr Gloom and Doom speaks?
Anyway, here's Mr Doom and Gloom stating his position on the new vaccine authoritarian totalitarianism sweeping across Europe.
As Neil Oliver says, the way our rulers are using (and IMHO outrageously abusing?) their power over us to force their vaccines on us seems to be motivated more by them wanting to ensure compliance and obedience rather than being justified by the science of the plague and the vaccines: