Friday/weekend blog
Is our Queen now a believer?
Hopefully you've all heard the good news. Apparently our Queen is now a Greta-adoring convert to the great man-made climate crisis mass delusion. From the comfort of one of her many castles or palaces the Queen has reportedly opined that she is "irritated" that politicians talk about taking action to stop climate change but don't actually take action.
So it seems that the whole Royal Family – the Queen, knuckle-head Charles, ever-so-woke William, emasculated Harry – are all now believers dutifully worshipping at the feet of the the world's greatest climate expert and modern-day prophet Saint Greta Doomberg:
Heat or eat?
Oh, and Her Majesty will apparently be attending Boris and Princess Nut Nut's big Glasgow 4-day blabathon to show her support for governments to further impoverish and further restrict the freedoms of us ignorant, unwashed commoners in our small semi-detached houses or flats by:
imposing carbon taxes on everything we use
forcing us to install useless, expensive heat pumps which will need electric fires as back-up
forcing us to buy useless electric cars whose batteries will go flat every time we get stuck in a traffic jam
cutting off our gas supplies to make us only use electricity
imposing smart meters on us so power can be cut to any home deemed by the elites to be wastefully using too much electricity
making flying too expensive for us malodorous masses
creating a new criminal offence – 'damaging the climate'
giving every home a carbon budget to limit the products we buy and any travel we want to make
Emboldened by how easy it was to terrify us into accepting (ineffective and damaging) lockdowns to supposedly fight the Chinese Wuhan plague, our rulers are slavering over their new-found power to control every aspect of our lives.
I suspect none of these Orwellian, pleb-crushing policies will affect our virtue-signalling, intellectually-challenged royals nor the sanctimonious elites who impose these restrictions on our lives. Though it will be interesting to see how many more ordinary people die each winter because they can't afford to both 'heat and eat'.
Once again, I strongly recommend journalist Ross Clark's satirical novel about life in net zero Britain – THE DENIAL: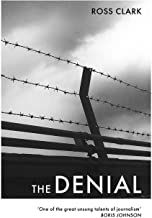 You have to laugh or you'd cry
I've just noticed that the government's plan to ban new gas boilers and force us to replace them with ludicrously expensive, almost useless heat pumps is now called the "boiler upgrade scheme". No doubt when flying is banned for ordinary plebs and we commoners are all forced to take our holidays in dismal, rain-drenched, drug-infested Blackpool, that will be called the "holiday upgrade scheme"?
You have to laugh or you'd cry.
Climate experts lie – ordinary people die
And here's the wonderful Tony Heller yet again exposing the data manipulation and blatant lies of our ever more power-hungry elites: