(Tuesday to Thursday blog)
Regular readers will know that I'm pretty busy writing a new book THERE IS NO CLIMATE CRISIS.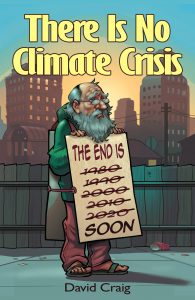 I hope to have the first draft ready in about 3 weeks. Then I have to decide whether to try to sell the book to a publisher or to just pay to publish it myself. Whether my book is genius or rubbish or somewhere in between, I suspect no publisher will dare take it as they'll be terrified of being attacked by the cyber-pitchfork-wielding woke mob for telling the truth – rising CO2 is not causing any catastrophic global warming or climate change or climate emergency or climate crisis or whatever it's called this week.
Anyway, I thought it might be worth using this blog to give just one tiny but significant example of the kind of lies the whole climate change panic is built on.
Here's a temperature chart showing that, in spite of ever-rising atmospheric CO2, there was a 12-year pause in global temperature rise between 2002 and 2014: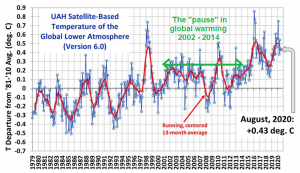 But can we trust this chart? After all, with the climate change cult continually tampering with the figures, you can find climate charts 'proving' whatever you want. Well, in this case, we can trust this chart as even the lying, climate-catastrophist Bolshevik Broadcasting Corporation reported the pause at the time. Here's the proof: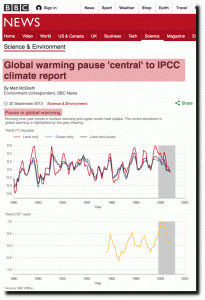 But this 'Pause' posed a problem for the climate alarmists. How could rising atmospheric CO2 be driving warming, if CO2 kept rising while temperatures didn't change for 12 years? Moreover, there was a further problem for the lying climate catastrophists. Increasingly there is evidence that variations in solar activity (and not  rising CO2) may be the main driver for the Earth's changing climate.
To solve these two slight difficulties with their bogus CO2-driven warming cult, the climate catastrophists came up with a simple solution – they falsified the temperature data to remove the 'Pause' (which we know happened and which even the BBC admits happened) and replaced the 'Pause' with ever-rising temperatures: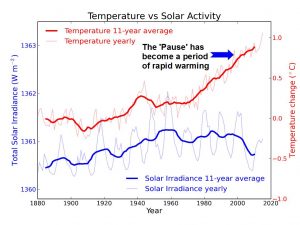 So, magically there was now no 'Pause'. Plus, by deceitfully drawing in ever-rising temperatures in the place of the 'Pause', the climate catastrophists could 'prove' that there was no link between decreasing solar activity since the year 2000 and supposedly ever-rising temperatures.
This is just one of many small lies I will expose in my book. But hundreds of these small lies make up the biggest lie of all – that humans burning fossil fuels are altering the Earth's climate and threatening the future of mankind.
And based on the farrago of lies, which I will expose in all its putrid horror, we're about to close down our power stations, destroy what's left of our industry, throw millions out of work, impoverish our people and hand control of the world to the lying, corrupt, plague-spreading Chinese.
Lemmings would be impressed by our collective suicide.