(Tuesday blog)
At last a tiny breath of fresh air from the otherwise backward, intolerant, violent, poverty-stricken, hate-filled, excrement-covered Middle East. An Arab journalist has dared to criticise the Palestinians accusing them of being the authors of their own misery.
Lebanese journalist Nadim Koteich mocked a statement by Palestinian ambassador to France in an October 14, 2020 show on Sky News Arabia (UAE). The ambassador had said that the Palestinian resistance has gone on for 100 years, and it will go on for 100 years more: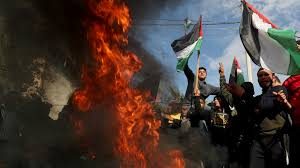 Koteich said that the ambassador is free to pledge another 100 years of resistance because he doesn't actually have to live in Palestine. The ambassador and his family live their comfortable lives in safety in Paris, far away from the Middle East conflict.
Koteich added that the Palestinians received an opportunity to establish a prosperous state in Gaza, after Israel withdrew from the Strip in 2005, however, they destroyed it. Koteich said that the UAE succeeded in turning warring tribes and chiefdoms into a prosperous union, while the Palestinians have done the exact opposite, creating warring factions upon factions. He said that the Palestinians could stand to learn from the UAE and other countries which are making peace with Israel instead of rejecting every proposal for peace:
Could the tide of Arab opinion finally be turning against the utterly worthless, blood-thirsty, hate-filled Palestinians?
Could there finally be some signs of hope from the blighted Middle East?
I doubt it. But sometimes it's nice just for a brief moment to dream that people could rise above their own (religiously-inspired?) hatred and stupidity
https://www.memri.org/tv/lebanese-journalist-koteich-palestinians-foolishly-continuing-resistance-learn-something-from-uae