(Tuesday blog)
Apologies for being totally boring and repetitive. But here's old Voltaire yet again: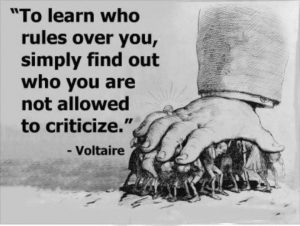 And here's why I'm repeating the French bore's warning:
BLM good, freedom bad
Here's a nice picture of our 'politically independent' police taking the knee in grovelling submission to rioters at a Black Lives Matter (BLM) protest in May:
As you'll remember, the BLM marches took place just before the summer at the height of the Xi Pingpong Wuhan flu plague. But instead of enforcing the law against mass gatherings, our police first took the knee and then ran away and hid in the Foreign Office building for safety during the 'mostly peaceful' protests.
But at the recent anti-lockdown protests, our brave police charged into the crowds beating anyone they could hit: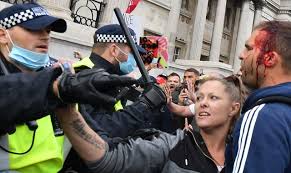 This included harmless middle-aged ladies: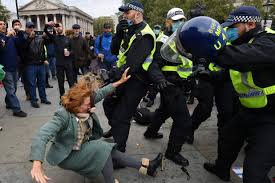 Is it any wonder ever more people are coming to despise our police and to see them as enemies of the people?
Whether you agree with lockdown or not, you expect the police to apply the law impartially. I suspect many ordinary front-line police are horrified by the way the police service is being politicised to serve the interests of the supposedly 'liberal', EU-loving, Izlumophiliac, rapefugee-welcoming, West-loathing establishment elites. But with our police being run by (IMHO) politically-correct, progressive, careerist, diversity-obsessed, UK-hating, Common Purpose utter garbage like this:
And this:
Who probably wouldn't recognise a real crook even if they tripped over one, whether they like it or not, our police are rapidly forfeiting any right to our support.
It's more than slightly embarrassing that even as far away as America people have noticed the once-respected British police's grovelling subservience to the new God of Woke: