(Monday/Tuesday blog)
Covid-19 cobblers exposed
I'm getting really sick of the media's, politicians' and supposed scientists' exaggeration and scare stories and lies about the Chinese Covid-19 plague.
Having frightened us into precipitating an economic collapse by hugely exaggerating the effects of the so-called "first wave", the mainstream media, politicians and attention-hungry supposed 'scientists' witter on and on and on about the supposed "second wave".
Here's a chart used by one best-selling UK newspaper to terrify us into submission by proving that the terrifying second wave is surely on its way. This shows the infection levels in France: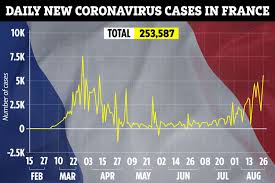 Scary stuff huh? Aaaarrrggggg!!!! We're all going to die!!
Just look at the chart! The second wave is almost as high as the first wave! And Macron is now blethering on about possibly needing another shutdown in France and making face-nappies compulsory for anyone daring to venture out of their homes.
But as the media desperately search for the most frightening clickbait headlines and the politicians backed up by sycophantic supposed 'scientists' dream up ever more restrictive impositions on our freedoms, nobody mentions that the reason infections seem to be rising may be because much more testing is being done. Here's a chart of the daily testing levels for France: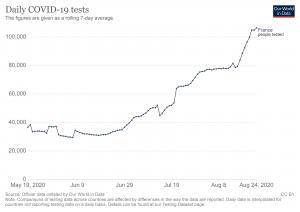 Surprise, surprise. Testing levels are shooting up. And the more you test, the more infections will be found. It's not complicated.
And what the media and politicians seem to 'forget' to mention is that, in spite of the supposed rise in infections, the number of deaths remains at almost zero. Here are the daily Covid-19 deaths for France:
Meanwhile in the UK, there were over 1,700 new Chinese plague identified infections at the weekend but only one death.
Here are the number of new cases in the UK since the start of the Chinese plague:
The number of identified cases seems to be rising. Aaaarrrggghhh! We're all going to die! And this gives a perfect excuse for teachers' and university lecturers' unions to howl about the perils of reopening schools and universities.
But the number of cases isn't rising nearly as fast as the number of tests. Here are the number of tests for the UK: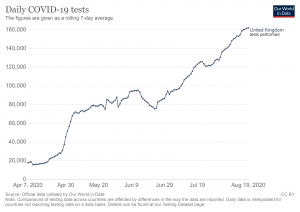 And here are the number of deaths for the UK:
So, as our media and politicians and bonking boffins (with their obsolete worthless models) and power-grabbing unions try to scare us into quivering submission, there may not actually be any real rise in Chinese plague infections at all. There may not be any "second wave". All we may be seeing is a rise in testing leading to a rise in identified positives.
Why isn't there a single person in the media, politics or the supposed 'scientific' community who can see this?
Could it be because it is in their collective interest to keep the Covid-19 scare/scam going as long as possible to increase their power over us?
Good doggies. Very good doggies!
To cheer us all up, here are two wonderful Italian dogs explaining to an African multi-cultural enricher recently arrived on a free NGO ferry across the Med that you don't enter someone else's home without permission.
(click on link below then scroll down and click again to play the video)