(Monday/ Tuesday blog)
Here's a nice muthaf**kin graph to kick off the week:
It's a graph of shootings in New York this year (red line) compared to the five previous years.
And here are a couple of tough muthaf**kas:
In the three-day period from Aug.13 through Aug.15, 49 people were shot in New York. This was an impressive five times more than the eight who were shot during the same 72 hours last year. And during the latest weekend more than 30 people were shot according to figures just released.
This brings New York City to more than 1,000 total shooting incidents across the city year to date, already double all of last year, and the summer is not even over — a summer which ironically has witnessed a supposed heightened consciousness and awareness of police shootings of black Americans given the ongoing George Floyd and Black Lives Matters protests.
Most of those shot are Blacks and Latinos shot by other Blacks and Latinos: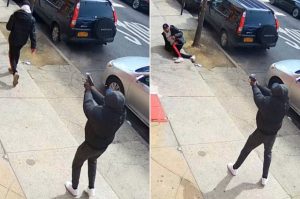 In one incident, a man in Queens was shot and killed while simply playing in a basketball tournament that was also part of a barbecue at a local park. Interestingly, news reports accompanying the tragic death actually blame lack of police presence for the violence there. Local residents are reportedly angry that police routinely "stay away" — something, it should be noted, that national BLM protests have demanded all along.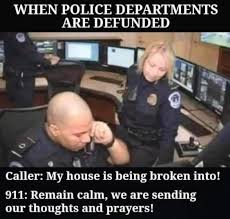 Among the dead was a 25-year-old mother of three children. Priscilla Vasquez was described in local reports as shot in the back of the head by an unknown gunman in the early morning hours of Saturday while standing on a sidewalk in front of a public school, just around the corner from her Bronx home.
Underscoring the senseless and often random nature of much of the violence, her friends and family don't think she was the intended targeted, also given the gunman appeared to fire wildly and haphazardly. Basically, the gunman was just having a bit of fun spraying bullets around as one does when there are no cops around.
As you may know, under pressure from 'Defund the Police' activists New York Democrat mayor Bill de Blasio and his Democrat cronies on the city council have cut the New York police budget by $484m and disbanded the NYPD's plain-clothes anti-gun-crime unit. Although here's New York congressperson Alexandria Ocasio-Cortez: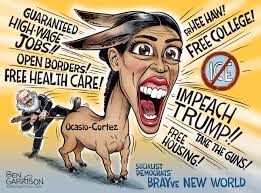 In her opinion, the budget cuts don't go far enough: "These proposed 'cuts' to the NYPD budget are a disingenuous illusion", said Ms Ocasio-Cortez in a statement. "This is not a victory."
In just a few months, by pandering to the Antifa/BLM fascists New York's Democrat bosses have managed to turn back over 20 years of progress against violent crime in the city. The result – those who can afford to leave New York are leaving and the city's once famous shopping streets have become crime-infested no-go zones: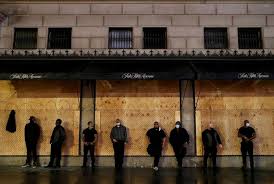 Maybe John Carpenter's 1991 supposedly 'science fiction' film – Escape from New York – wasn't science fiction after all?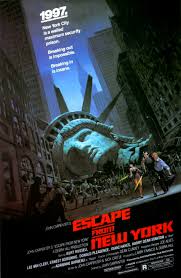 The same grim scenario is being played out in many other US Democrat-controlled cities – especially Chicago, Seattle, San Francisco and Portland – in fact anywhere that Antifa/BLM fascists have taken over the streets and defunded, demoralised police retreat.
I humbly suggest that maybe 150 million to 200 million Americans don't support the statue-destroying, inner-city-burning, US-hating, intolerant, free-speech-oppressing, fascist Antifa/BLM scum:
I humbly suggest that the rapidly increasing lawlessness and violence, strongly encouraged by Democrat politicians who hope that the chaos will favour their electoral prospects, are why Trump may (will?) win again in November.
As for New York – it's becoming just another corrupt, crime-ridden, dystopian Democrat sh*t-hole: