(Wednesday/ Thursday blog)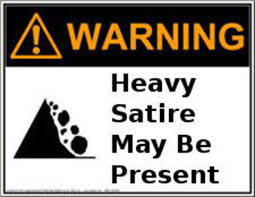 I have been shocked, horrified, outraged, incandescent etc etc etc at the cruel and heartless way our evil, Izlumophobic government has treated the adorable and innocent British teenager – Shamima Begum.
Shamima represents the best of modern Britain
Shamima is just a normal modern, well-integrated British Muzlim girl. She likes sewing (making suicide vests?), watching TV (beheadings are her favourite?) and hanging out with her friends (viciously beating underage Yazidi girls and dragging them off to be repeatedly raped and then murdered by the brave Jihadi superheroes she worships?). Her favourite subjects while skiving school are biology (producing broods of mini-Jihadis to kill us disgusting subhuman Kaffirs?) and physics (helping assemble suicide bombs?). And like most Brits she's a great football fan and never misses her favourite team (when they play football with the severed heads of infidels and unbelievers?):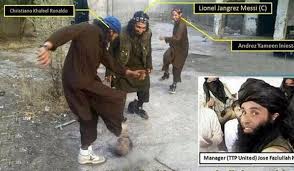 So, how can anyone claim Shamima is a threat to British society?
Here's gorgeous pouting Shamima wearing her latest Gucci headbag posing in an ISIL beauty competition: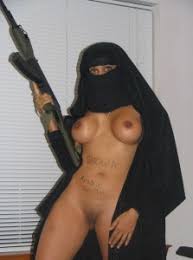 At least I think it's her. But it's so difficult to tell when the Jihadi-beauties are dressed in the latest Izlumo-fashion:
Well, this is definitely her – almost totally naked:
Anyway, now Shamima wants to come home to Britain presumably to get an education to become an engineer or brain surgeon and make a massive contribution to rebuilding our wonderful, vibrant, diverse, multi-cultural country after the economic devastation caused by the Chinese Covid-19 plague: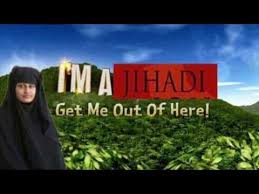 No way is she intending to open her legs to every bearded lunatic, who happens to be passing within a hundred metres of her tax-payer provided house, and produce yet more West-loathing, violent, bloodthirsty mini-Jihadis while parasitically living off our overgenerous benefits system for the rest of her life!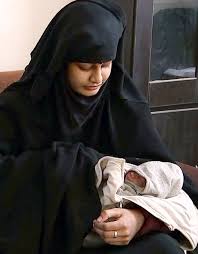 Too young to know – old enough to vote?
Shamima's case does however expose a more than minor contradiction in the claims of the virtue-signalling, lefty, woke, progressive, Izlumophiliac West-haters. The great Jeremy 'Maduro' Corbyn inadvertently expressed this rather clearly. At one point, Corbyn demanded that the Begum creature be welcomed back to Britain saying: "We demand the return of Shamima Begum to the UK at once, she was only a 16 year old immature child when she decided to join ISIS and cannot be held accountable for her actions at such a young age".
So, according to Jeremy and millions of other deluded Izlumophiliac fools, when Shamima went off to join ISIL at 15 or 16, she was far too young to understand what she was doing.
However, before the last election, the very same Jeremy Maduro rather fancied giving the vote to 16- and 17-year-olds as that would hugely increase his chances of winning the election and turning Britain into a European Venezuela. Here's what Jeremy said: "We demand that 16 year olds be given the vote in the UK, they are responsible and free-thinking young adults".
So, for the UK-hating, West-loathing lefties 15- and 16-year-olds are both too young to know what they are doing while at the same time being mature enough to be given the vote at 16. I wonder who Shamima will vote for when she soon graces our benighted shores? Probably not the Tories.
Moreover, not only are pig-ignorant, school-skiving 15-year-olds apparently deserving of the vote as soon as they hit 16, but they are also experts in some of the most complex mysteries of science: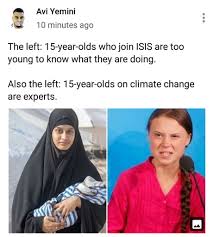 It's all very odd don't you think?
Welcome back Shamima!
Anyway, when the (IMVHO) maniacal, murderous, UK-despising, poisonous, utterly worthless, waste-of-skin, benefits-scrounging Izlumo-whore Shamima Begum comes back to Britain, I hope you'll all celebrate as I will.
Remember BLM – Begum's Life Matters – but yours doesn't.
And here, to cheer us up as we await Shamima's glorious and welcome return to the land of her forefathers (are you sure? ed.) is the one and only time the BBC has ever dared make fun of our favourite religion.
Probably you've already seen this. But enjoy it yet again and while you can as, if the politically-correct, Guardian-reading Izlumo-appeasers get their way, this will be removed from the BBC archives for supposedly being 'offensive' never to be seen again: