(Friday blog)
Do Jewish lives matter?
It has just been announced that F1 racing driver Lewis Hamilton will wear black clothes and drive a black car reportedly to show support for Black Lives Matter (BLM):
I believe that Lewis Hamilton gets paid over £50m a year by Mercedes. Just 80 years ago, Mercedes used around 40,000 slaves from German concentration camps. Many of these slaves would have been Jewish. Many died due to over-work, brutality and starvation. Towards the end of WWII Mercedes tried to gas those concentration camp slaves who had survived in order to cover up Mercedes's crimes against humanity.
Mr Hamilton has reportedly called for the removal of all symbols of slavery which happened hundreds of years ago:
https://www.telegraph.co.uk/formula-1/2020/06/08/lewis-hamilton-statues-racist-men-made-money-selling-human-should/
I therefore find it surprising that Mr Hamilton appears more than happy to take huge amounts of money from a company which made a lot of its money from using and murdering so many slaves just 80 years ago.
Perhaps Lewis Hamilton would like to make a statement about Mercedes's use and abuse of concentration-camp slaves?
Harry the Nazi jumps on the BLM bandwagon
Meanwhile here's the latest news from Tinsletown. It concerns a former member of the British Royal Family who is perhaps best known for dressing up as a Nazi: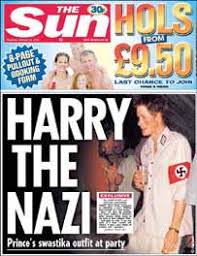 This noble, Nazi-uniform-wearing prince has decided to jump aboard the Black Lives Matter (BLM) bandwagon and lecture us disgusting, pig-ignorant plebs for supposedly all being "unconscious racists".
https://www.theguardian.com/uk-news/2019/jul/30/prince-harry-unconscious-bias-affects-people-racist
The words pot and kettle do spring to mind. But I could never use the full expression as that would be "racist".
Though perhaps we should forgive Harry. He might be getting bored in his luxury Los Angeles mansion as the Chinese Covid-19 plague has prevented him from flying around the world on private jets to lecture us worthless working people on using too much fossil fuel. So Lord Harry has to find something else to criticise us for to keep in the news and demonstrate his moral superiority and the BLM bandwagon is really in vogue for bandwagon-jumping, third-rate celebs at the moment.
HMRC don't seem to have a sense of humour
And to cheer us up here's a small article from a local newspaper: