(Tuesday blog)
The greatest assholes – our Government or our media?
When this is all over, we can expect a public inquiry into our Government's mis-handling of the Chinese Covid-19 plague.
Hopefully this inquiry will expose some of the Government's worst mistakes:
not taking the coronavirus seriously due to a fixation with Brexit
muddling between a 'herd immunity' strategy and a lockdown strategy
delays in implementing lockdown
allowing over 10,000 arrivals at Heathrow airport each week with no testing and no quarantining
turfing about 15,000 patients out of hospital into isolation, their families or care homes without any testing to make room in hospitals for the expected tsunami of Covid-19 victims
believing a statistical model of 500,000 deaths from a group at Imperial College who had a stunning record of hugely exaggerating the effects of every situation they had analysed in the past
etc etc
And the Government will be blamed (probably rightly) for many of the lives lost.
But nobody will be analysing the mistakes made by our career-hungry journalists and how many deaths they have caused. In yesterday's blog, I tried to show that we could expect a mere 5% increase in annual death rates from the Chinese Covid-19 plague. But irresponsible journalists, desperate to make headlines, breathlessly quoted ever-rising numbers of Covid-19 deaths without ever putting these into context.
One of the worst mistakes our useless, self-promoting journalists made as they tried to turn a problem into a crisis was the great ventilator panic:
Ventilators! Ventilators! We need more ventilators! Ooops!
You may remember that just a few weeks ago, a howling screaming, mouth-frothing mob of journalists was attacking the Government for not having sufficient ventilators available to treat Covid-19 patients. The result – massive panic by the Government and frantic efforts to get any company that could producing ventilators for our hospitals. Who knows how many millions or tens of millions were spent buying these ventilators?
But you won't hear our worthless, self-promoting, careerist journalists mentioning ventilators any more. Why not? Because our intensive care doctors are now finding out that intubation (putting Covid-19 patients on a ventilator) when they have ARDS (Acute Respiratory Distress Syndrome) has been a disaster with over half of intubated patients dying.
Of course, there could be a chicken and egg situation here. Are the intubated patients dying in such high numbers because only the most seriously ill patients are intubated? Or are the high death rates due to intubation being the wrong treatment protocol for Covid-19 sufferers?
Increasingly, it seems that many medics are concluding that intubation is the wrong treatment for Covid-19 patients with ARDS. Here's a graph of the level of intubations being performed at one New York hospital. If you can read the graph, you'll see the level of intubations fell off a cliff on 4 April: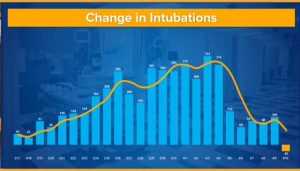 This is in spite of the fact that the peak for Covid-19 cases in New York wasn't until 14 April.
In the UK on 27 March, 78% of Covid patients who had gone to NHS ICUs were intubated and ventilated within 24 hours of arriving. By April 24, that number had gone down to 67%. The cumulative mortality rate for NHS ICU Covid patients decreased from 52.1% to 50.7% over that same period.
This is why you won't see our mostly worthless journalists mentioning ventilators any more. Because journalists (with their useless degrees in English or Gender Studies) got it wrong. Because we didn't need more ventilators at all. What we actually needed were more CPAP devices and faster repurposing of existing medication to keep patients off ventilators – off the death machines which our journalists had so enthusiastically promoted just a few weeks ago.
Media asshole-level indicator
And now that the Government are suggesting we gradually lift lockdown, our sh*t-for-brains journalists are at it again. Once again a frenzied, screaming, howling, spittle-flecked mob of journalists are berating the Government. This time it's for supposedly having 'mixed messages' and for 'not making it clear' exactly how every single person in the country should act in every single possible imaginable situation during the gradual lifting of the lockdown.
When the PM did his Sunday evening talk, journalists screamed in outrage that the PM's message lacked detailed instructions even though Boris Johnson made it perfectly clear that the Government would be publishing a 50-page document the next day detailing its advice. When the 50-page advice was published, the media mob howled that it didn't cover every single eventuality that could possibly happen anywhere in the country even though the Government made it quite clear that further documents on helping reduce Covid-19 infections – such as redesigning work-places to allow social distancing – would be published this week. And when Boris Johnson dared suggest that people use their "common sense" rather than expecting the Government to tell them exactly how to behave, this caused total emotional meltdown in our self-regarding, UK-hating media.
Plus of course, given that the ginger-pubed wee Krankie from North of the border would never allow Scrotland to follow the same path as the hated English (especially the hated Brexiteer Johnson), journalists are now berating Johnson for not having a consistent policy for the whole UK and accusing Johnson of "breaking up the UK" even though the journalists know full well that policy on the Chinese Covid-19 plague is a matter for the devolved parliaments.
To help us all navigate our way through the lies, irresponsible mis-reporting, self-promotion and dishonesty of our worthless media, the Government has produced a very useful guide to be used by us plebs when listening to our know-it-all journalists' reports. Here's the first version of the guide:
But you plebs can adapt this as the Government gradually eases the lockdown restrictions and our self-regarding, know-it-all, pompous, 20/20-hindsight journalists continue to make fools of themselves.