(weekend blog)
The Chinese Covid-19 plague which was accidentally leaked from a Chinese research lab in Wuhan has highlighted how dependent most Western countries have become on the corrupt, dirty, lying, disease-ridden Chinese.
China takes over the world?
Under the leadership of the Chinese Communist Party, Chinese companies have completely devastated most Western manufacturing and high-tech companies by deliberately and methodically undercutting Western companies sector by sector. At the same time, Chinese companies controlled by the Chinese Communist Party have been aggressively buying up large parts of the Earth's natural resources and ports across the world as China tries to monopolise the Earth's natural resources and trade routes. I have previously shown how China has cornered the market in 'rare earth metals':
Moreover Chinese companies (basically the Chinese Communist Party) own stakes in 13 European ports:
In addition the Chinese Communist Party has managed to grab ownership of ports in Third-World countries by making loans to those countries that can never be paid back and so those ports' ownership will be ceded to the Chinese Communist Party.
All this is part of the lying, dirty, corrupt Chinese Communist Party's long-term strategy of controlling world trade through its new Silk Road programme: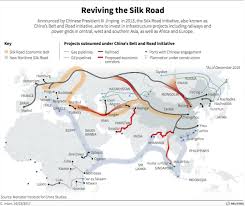 Selling out Britain?
I have also shown how the dirty, corrupt, lying Chinese Communist Party has taken stakes in many major UK companies:
And now we find that Chinese companies will be building our new nuclear power stations and a Chinese company, Huawei, closely connected to the Chinese military establishment, will be providing much of our 5G network. As one US senator warned, allowing Huawei into the UK's 5g network was like "allowing the KGB to build the UK's telephone network during the cold war".
While the four other members of the "Five Eyes" intelligence network – the US, Australia, New Zealand and Canada have (I think) all banned Huawei from their 5G networks, the UK has apparently decided to allow Huawei's participation.
It should be noted that some quite influential Establishment figures just happen to be on the Board of Huawei UK. I think they are all wonderful people. But not everybody shares my opinion:
When he was appointed as Chairman of the Huawei UK Board, Lord Browne said: "It is an honour to serve as the first independent Chairman of Huawei's Board in the UK. In a short period of time, Huawei has become a global leader in technology and one of mainland China's largest investors in the UK. I have worked in China and with Chinese businesses for the past 40 years, and continue to be impressed by the corporate sector's ambition and potential. I am delighted to be leading this Board as it supports Huawei's next phase of growth."
But there may be cynics who believe that Browne and his Huawei UK Board are selling out our country while filling their own pockets with Chinese money.