(weekend blog)
Apparently there was a film made in 2006 called Idiocracy. I'm afraid I haven't seen it.
The opening lines of the film explain its premise:
As the twenty-first century began, human evolution was at a turning point. Natural selection, the process by which the strongest, the smartest, the fastest reproduced in greater numbers than the rest, a process which had once favored the noblest traits of man, now began to favor different traits.
Most science fiction of the day predicted a future that was more civilized and more intelligent. But as time went on, things seemed to be heading in the opposite direction — a dumbing down. How did this happen? Evolution does not necessarily reward intelligence. With no natural predators to thin the herd, it began to simply reward those who reproduced the most and left the intelligent to become an endangered species.
The film's plot: In 2005, Corporal Joe Bauers, a United States Army librarian, is selected for a suspended animation experiment on grounds of average appearance, intelligence, behavior, etc and is sent to sleep for a year. But the experiment is forgotten and he isn't found till 500 years later. Over the five centuries, the expectations of 21st-century society ensure that the most intelligent humans fail to have children, while the least intelligent reproduce prolifically, which, through the process of Darwinian natural selection, creates generations that collectively become increasingly dumber and yet more fertile with each passing century.
When average underachiever Corporal Joe Bauers wakes up in 2505 – 500 years in the future – he comes to realize that people have become so dumb that he's now the smartest person on Earth.
Of course, this could never happen in real life??????????
(Apparently the film didn't get released into too many cinemas as the film company began to get cold feet about the film's satirical message and so limited screenings to the legal minimum allowed in their contract)
Meanwhile on London's streets
While we're on the subject of an Idiocracy, here are a couple of pictures which suggest that Idiocracy may already be here: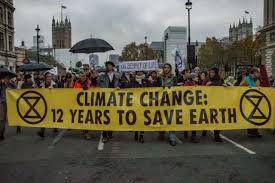 Yup, these idiots really believe that protesting and putting on silly costumes and working themselves up into foam-flecked fury will alter the ever-varying orbit of the Earth around the Sun and have an influence on levels of solar activity:
Maybe human evolution has already stopped?
Meanwhile on Library Street
While we're on the subject of an Idiocracy, the link below is to a real piece of video filmed somewhere in Britain on a street ludicrously called Library Street. I don't know if there's a library on Library Street any more. Probably not. After all, what use would the people living around that area have for a library? Although perhaps a public convenience would be of use to the locals – if they even know how to use a toilet? Then they wouldn't have to use Library Street to get rid of their bodily waste.
This is not a parody or satire. It's real life in Britain today. Perhaps this is yet more evidence that Idiocracy is already alive and well in our country?
Enjoy a daily scene featuring the fine, upstanding citizens of Library Street. Have a great weekend:
https://trendingviews.co/video/woman-caught-with-pants-down-in-public-while-on-hard-drugs-9473.html