(weekend blog)
Oh Sweden, what have you done?
I know Sweden quite well. I speak Swedish and have worked in Sweden for several years. OK, I know Sweden used to be possibly the most boring country in the world and the Swedes some of the most boring people you would ever meet. But the country's nature was wonderful and it was a pleasure in the summer sailing in the Stockholm Archipelago or swimming in some of Sweden's over 97,000 lakes.
But Sweden is boring no more. In fact it's vibrant and diverse and multi-cultural and thoroughly enriched.
Rape, rape, rape, rape……
If this was your impression of Swedish girls:
Then you need to read the news a bit more. Nowadays, Swedish girls are just as likely to look like this: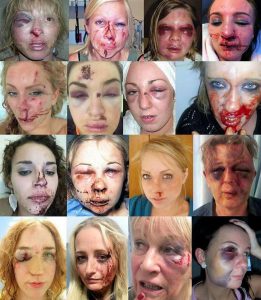 Or even this:
Come on baby light my fire
The massive increase in rapes was just the first indication of the benefits once peaceful, once safe Sweden was getting from its policy of importing hordes from the Third World. Next came the loss of Swedish territory to the invaders as probably over 50 areas of Sweden became 'no–go' areas for the police and emergency services:
The situation was so bad that Swedish police started closing police stations in these so-called "sensitive areas" and retreated to safer districts where they could better protect themselves.
Boom bang a bang, boom bang a bang
Nope, these are not the words of an Abba song. They are what you'll hear night after night in some Swedish towns as gangs of enrichers fight over territory. As the excellent and highly readable Spectator magazine recently reported – one night last week, explosions took place in three different locations in and around Stockholm. There were no injuries this time, just the usual shattered windows, scattered debris and shocked people woken by the blast.
The police bomb squad was already on its way to the first explosion in the district of Vaxholm when it had to turn around and prioritize the detonation at a residential building in the more densely populated city center. Explosions have become so normalized in Sweden that SVT, Sweden's equivalent of the BBC, did not even mention the three explosions in the country's capital on its national news program that evening. Instead, the main domestic story was the purported censorship of 'big female bodies' on Instagram. The explosions were left to the local news.
Between January and June this year, more than 100 explosions were reported in Sweden, up from about 70 in the same period last year. There are no comparable figures available for earlier years because it's such a recent phenomenon. Until recently no one would have thought of adding a column on bombings to the national Swedish crime statistics.
Sweden's gangs, which mainly operate out of the country's socioeconomically weak immigrant neighborhoods, do not only use explosives to assert their dominance. Sweden had 45 fatal shootings in so-called criminal environments last year — a tenfold increase in one generation. By contrast, Norway has fewer than three such shootings a year. Nine out of ten perpetrators of Sweden's gang shootings are either first- or second-generation immigrants.
The country has gone from having among the lowest rates of violent crime in western Europe to one of the highest. When it comes to bombings, no other developed country in the world which is not at war has experienced anything like Sweden's epidemic.
And here, to cheer us all up, is a short video of umpteen useless Swedish police having their fat, lazy asses kicked by just one diverse, vibrant enricher. This is recorded at a migrant centre and the people you hear laughing in the background are other migrants. Clearly they don't have too much respect for the Swedish police. I don't wonder why: