(weekend blog)
This weekend I wanted you all to see a wonderful video of Germany 'successfully' integrating Merkel's migrant millions. The video appears to show an integration class for some of the highly-qualified doctors, scientists, engineers and IT experts who will certainly make a massive contribution to Germany's economic development when they've stopped fighting each other with chairs, desks, bins and anything else they can use as weapons.
I believe the video gives an excellent example of the benefits of migration to Europe. I understand the video has been banned by YouTube as the YouTube thought police feel that the video fails to sufficiently portray the numerous positive aspects of diversity, vibrancy and multi-culturalism.
But I provided link to another website which still had the video when I wrote my blog early Saturday morning:
But the video was removed on Saturday morning just after I wrote my blog. But now on Sunday morning it's back! However, I don't know how long it will be available.
My apologies if it disappears again. If it disappears again, the only trace I can find of this video on the Internet is this very bad picture from the fight: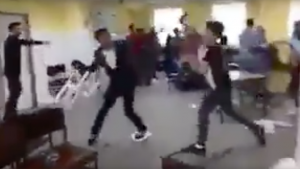 Hopefully it gives a hint of the fun they were having. But what you don't see is the hijabbed women running around screaming and ululating, the men smashing chairs over each others' heads, the punching and kicking and yelling, the total chaos before the German police had to intervene.
Here's a list of the reasons YouTube (and many other PC websites) will ban videos and comments: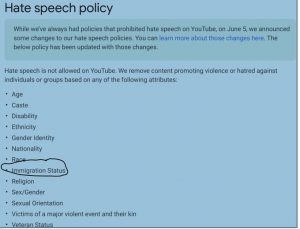 As you'll see, anything critical of immigration is considered as 'hate speech' and will be banned!!!!!!
All in all, this was a rather frightening example of the widespread but unseen censorship which is crushing any videos or posts which do not support the liberal, progressive, globalist, libtard agenda.
Perhaps interestingly, Bitchute.com, the website that has just removed the video I wanted you to see, has kept up a video of someone claiming "The Israelis were behind 9/11". Unbelievable!