(Monday blog)
Just a few of many many horror stories from last week:
Saving the family's "honour"?
Isra'a Ghrayeb, a 21-year-old Palestinian aspiring make-up artist from Bethlehem, was reportedly killed this past Thursday after being allegedly tortured and beaten to death by her brother in a family honour killing:
According to The New Arab, Ghraybeb was killed after posting a video on social media depicting her and her fiance. Her brother, Ihab — a Canadian citizen — was reportedly angered by the video, believing it was a family dishonour to show herself with her betrothed together before a formal wedding ceremony takes place.
Citing social media posts, The New Arab reported Ihab's father called for his daughter's beating after other family members saw the video. Local media reported Ghrayeb fell from the second floor of the family home while trying to escape family violence.
The fall caused severe spinal injuries. While in hospital awaiting a spinal cord operation the girl was allegedly attacked again and killed. Her family claim she died of a heart attack.
Stabbing "not terror-related"
A 19-year-old asylum-seeker was arrested in Villeurbanne, a suburb of Lyon, France, on Saturday after he allegedly killed a 19-year-old and wounded nine others at a subway stop.
The suspect, armed with a knife and a "skewer" of some sort, was arrested at the scene. He is reportedly a 33-year-old Afghan citizen who was hoping to gain asylum in France.
An eyewitness to the attack told France 24 that the attack was frenzied:
There ere was a man at the 57 (bus stop) who started  striking out with a knife in all directions," said a young girl whose top was stained with blood.

"He managed to hit, to cut open one person's stomach," she said.

"He stabbed a guy in the head, he cut the ear of a lady and the lady was dying at the bus stop and no-one came to help," she added, sobbing.

She eventually managed to get the woman on a bus, which closed its doors and drove away from the scene.

"There was blood everywhere," she added.
Three of the stabbing victims are in critical condition, according to the Lyon prosecutor's office. Another 20 people were treated at the scene for "shock."
According to the Associated Press, "The reason for the attack was unclear." However, an official told the AP that the attack did not appear to be terrorism-related
Spreading the religion of peacefulness in Nigeria
"They started with burning churches, killing the pastors, and killing the members. Shutting them down," he said.
"On 29 September 2014 was the day that they attacked my village.  Around ten I had a call that they have killed my dad. They asked him to deny Christ and when he refused they cut off his right hand. Then he refused [again], they cut to the elbow. In which he refused, before they shot him in the forehead, the neck, and chest," Yeohanna went on.
Many of the 1,500 Christians living in this camp have similar stories.
Hang 'em high
Iran's regime hanged another woman on Sunday in the north-eastern city of Mashhad, state media reported Monday.
The unnamed woman was hanged at dawn on August 25, 2019 in the Central Prison of Mashhad, according to the state-run ROKNA news agency. She was found guilty of murder. She was the 94th woman executed in Iran since the 'moderate' Hassan Rouhani took office as President in 2013.
Lock 'em up!
An Iranian women's rights activist has just been sentenced to 24 years in jail, including 15 for removing her required hijab as part of an equality protest.
20-year-old Saba Kord Afshari was sentenced after being charged with "spreading corruption and prostitution by taking off her hijab and walking without a veil," "spreading propaganda against the state," and "assembly and collusion". Many other Iranian women were arrested last week for removing their headscarves as part of a protest against oppression of women in Iran and face up to 10 years in jail each.
Meanwhile back in vibrant, diverse Britain
A 19-year-old accused of killing Luke O'Connell during the early hours of Saturday has been named.
Hamza Shah of Hagden Lane will appear before Hatfield Remand Court tomorrow, (Monday, September 2), charged with the murder of the 27-year-old. Luke sadly died after suffering serious stab wounds at around 3am on August 31: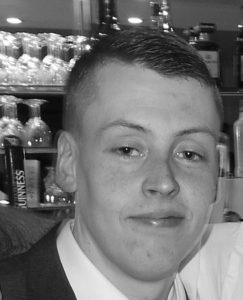 Hertfordshire Constabulary received reports of a three-car crash in Gammons Lane and then a fight taking place at the junction of Leavesden Road. When officers arrived they discovered Luke injured and rushed him to hospital where he died.
Here come the engineers, IT experts and doctors
And now, to cheer us all up as we move from an almost non-existent summer into autumn, are some highly-qualified engineers, scientists, nuclear physicists, IT expert and doctors coming to Europe to make a massive contribution to our ageing continent's floundering economy.
Hooray for Angela Merkel! Hooray for open borders!