(Wednesday blog)
Wonderful times. US President Donald Trump tells the unvarnished truth and upsets the whole progressive, BBC-supporting, liberal British establishment. I just love seeing the howling outrage of the useless British ruling elites as Trump dares to expose their failures.
So, let's just spend today's blog enjoying Trump's well-targeted attacks on our piece of garbage PM and her worthless, EU-loving diplomats.
Here's Trump's totally accurate criticism of the hopeless, treacherous May's Brexit failure:
trump on brexit
Here's Trump on the UK ambassador:
I don't know anything about Sir Kim Darroch except that he was ambassador to the EU for years and that, if the worst PM in British history says she has 'full confidence' in him, then Darroch is probably as much of a pompous fool as Trump suggests: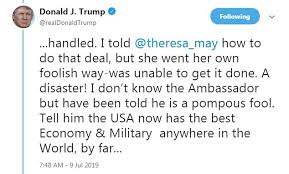 And finally – Trump looks forward to the useless May being replaced and Britain getting a new PM. I love the way Trump says he was most impressed by the Queen during to his visit to London, thus suggesting he was more than unimpressed by the disastrous hag May and her bunch of sycophantic hangers-on:
While our rulers and mainstream media huff and puff in confected outrage over Trump's comments, I think many ordinary people will be nodding their heads and thinking: "hit the nail on the head Donald – tell it like it is!"
Moreover, I believe many ordinary people will be wishing we had a strong leader like Trump in the UK – a leader who believed in his country and worked for those who elected him (unlike Theresa May and most of the ruling British Establishment who seem to be working full-time for the globalists in Brussels and Davos).