(weekend blog)
To paraphrase Lady Bracknell: "To commit political suicide once is unfortunate, to commit political suicide twice starts to look like carelessness".
But incredibly, that's what the useless, infighting, self-immolating Tories seem to be doing.
Political suicide Number 1
The worthless, scheming Tories' first attempt at committing political suicide came from promising to implement the result of the 2016 EU Leave/Remain Referendum and then spending 3 years deliberately sabotaging Brexit in order to keep us in their beloved German-controlled Fourth Reich (aka the EU). The Tories lied and lied and lied and lied to us. Theresa May promised over 106 times that "no deal was better than a bad deal" and then abandonned any pretence of leaving the EU on WTO terms. Most of the other Tory scumbags kept saying they would "honour the result of the Referendum" while doing everything in their power to block Brexit. You know who you are – liars and traitors
But enough of that. You all know the details of what happened and how the Establishment betrayed the votes of 17.4 million people.
Following their lies and betrayal of their Brexit promises, the Tories are loathed by millions of former Conservative voters. The pointless Tories hope that fear of Mad Jeremy Corbyn and the extraordinary Diane Abbott will coerce voters to hold their noses and vote Conservative at the next election. I believe they have seriously misjudged widespread public fury and that millions will never forget and never forgive. I believe the Tory Party truly has committed political suicide.
If I was Crazy Jeremy Corbyn, I'd already be surfing the Internet for new curtains and furniture for Number 10.
Political suicide Number 2
There is, however, one slim hope for the Tories. That would be to replace the ghastly, incompetent, ever-capitulating Theresa May with a new charismatic leader who could attract voters. Looking at the contenders to be the next Tory leader, one is hardly excited about our country's future: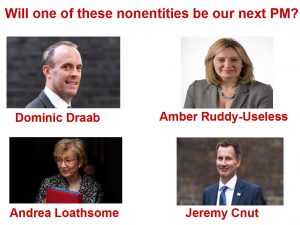 Of course, there's also Michael Gove: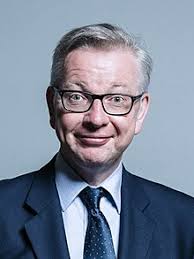 A (IMHO) lying, self-serving, untrustworthy, scheming political rat who is about as inspiring and charismatic as a cow fart.
And not forgetting the Mekon: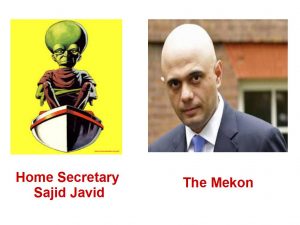 Some Tories apparently believe that if they choose the Mekon, they'll get the Religion of Peace block vote of at least three times as many votes as there are Religion of Peace voters. Sorry to disappoint Tory strategists, but the Religion of Peace block vote of possibly 10 million votes from 3 million voters will stay firmly with Israel-hating, Hezbollah-loving Labour.
But there is one contender who stands head and shoulders above this bunch of twopenny-halfpenny political pygmies. That's Boris Johnson: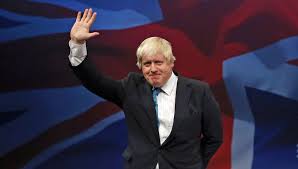 Twice Johnson won the mayoral election in strongly Labour London where only one in three voters is ethnic white British. That's an incredible achievement. And Boris Johnson won because he is positive, charismatic and radiates optimism. Of course, he often blunders. But he can guard against this by surrounding himself with intelligent advisers. However, looking at the Tory candidates for PM, Boris Johnson is (IMHO) the only one who could possibly go against someone with Nigel Farage's personal appeal.
Of course, you may not agree with me. But let's just assume for a moment that Boris Johnson is the only hope the worthless, dishonest and incompetent Tories have of avoiding oblivion at the next general election, what are the Tories doing about getting him into position?
Ah yes, I remember. The risible Tories are plotting a "stop Boris" campaign. They're actively looking for ways to prevent their only credible candidate from becoming Tory leader. They'd rather have a charisma-free nonentity than Boris Johnson, probably because they're all charisma-free nonentities and are envious of Johnson's popularity.
And that's the Tories' second act of political suicide – deliberately preventing their most electable candidate from becoming the next PM.
Bye Bye Tories – you've really done a double clusterf**k and hopefully you'll be deservedly consigned to the dustbin of history at the next election.
Oh, and here's another prediction I'll make: if Corbyn does win the next election due to the Tories' double self-immolation, Labour will lower the voting age to 17 or even 16 thus ensuring they get the schoolchildren's snowflake vote and remain in power in perpetuity or at least till they've reduced once great Britain to the Venezuela of Europe. Then we'll really need someone like Farage, who believes in Britain, to rescue us.
To cheer us all up
Americans aren't great at satire. But here's a reasonable attempt. Enjoy "The Day Collusion Died":