(Monday/Tuesday blog)
I'd like to start this blog with probably the most idiotic, ill-informed, crass comment any reader of my blog has ever made.
Here it is:
Meanwhile Apartheid soaked Israhell shoots Palestinian men women and babies in their own country, Palestine , the Gaza strip is a concentration camp. Nowhere more racist than Israhell.
The piece of garbage who wrote this comment also provided a link to a website which claims that the Holocaust is a hoax and that only 271,000 Jews died in the Second World War and the only reason some bodies were burnt was to stop the spread of infectious diseases.
It is truly frightening how ignorant and prejudiced some people are. Even more worrying is that people like this are allowed to vote.
When lefty, progressive idiots spew out their hatred of Israel, I wonder if any of them has ever looked at a map: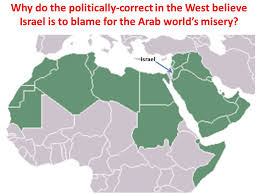 If they did, they'd see that tiny Israel is a shining light of democracy, technical progress and civilisation in the midst of a vast ocean of Arab backwardness, poverty and misery. The Arabs have to destroy Israel as Israel shows what their countries could have been like if they weren't so (IMHO) c******, l*** and s***** (adjectives censored due to political correctness).
Anyway here's an Israeli Arab (who probably knows slightly more about Israel than the butt-head, Jew-hating libtard who made the above comment) pointing out that Israel is the only country where Arabs live in a real democracy: