(Friday blog)
Here are two contrasting stories the BBC and C4 News won't be mentioning.
Amazon abandoning New York
Amazon had been looking for a location for a second HQ and had been in discussions with several US cities to see which would offer the best deal. The Amazon HQ would have brought about 25,000 new jobs and billions in tax revenues. The Democrats, who run New York, put together a package offering Amazon about $3bn in tax cuts. So Amazon chose New York.
Then along came Alexandria Ocasio-Cortez (AOC) – the new leftist firebrand elected to Congress by the snowflake, #metoo, tear-down-the-borders, we're-all-victims-of-white-supremacist-males idiots pouring out of universities with their worthless degrees in Gender Studies and Media Studies and suchlike.
AOC terrifies the Democratic leadership due to her popularity with the brain-dead, libtard, snowflake masses and whenever she says 'jump', they ask 'how high?' She recently published her New Green Deal for America which would destroy so much of American industry that it would make the useless Ed Miliband's absurd Climate Change Act look like a teddy bears' picnic. But, in spite of the moronic stupidity of the Green Deal, many senior Democrats quickly endorsed it. Opposing AOC would have been bad for their careers.
People like AOC loathe Amazon as Amazon's labour force is not unonised. So, AOC was a leader of a vociferous campaign to block Amazon's New York HQ. Showing a Corbynite grasp of economics, one of AOC's key themes was that instead of 'giving' Amazon $3bn, New York City should be spending that money on teachers and homes etc. In claiming this, AOC showed a typical socialist's understanding of economics – she thought the $3bn existed when actually it was a tax break meaning that over about 20 years, Amazon's new HQ would bring in about $24bn in tax revenues to New York City rather than the $27bn or so if the tax break hadn't been offered. But, as AOC has said in her defence, being morally right is more important than being factually correct.
Anyway, the end result was that Amazon dropped its New York City plans and decided to build its new HQ in Tennessee. Amazon will not be building a headquarters in New York City, according to a statement released by the company on Thursday which noted that "a number of state and local politicians have made it clear that they oppose our presence."
AOC was delighted with her supposed 'victory': "Anything is possible," she tweeted in response to Amazon's decision. "Today was the day a group of dedicated, everyday New Yorkers & their neighbors defeated Amazon's corporate greed, its worker exploitation, and the power of the richest man in the world."
Not everyone was as pleased as AOC with her 'victory' over Amazon. An organisation called the Job Creators Network put up a billboard criticising AOC's campaign:
A socialist disaster story that the BBC and C4 News and most of the UK mainstream media will definitely ignore.
More 'victories' like this and AOC will soon be able to turn New York into a US version of Venezuela: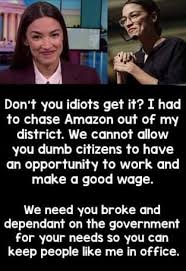 Detroit factory to re-open
Now for something completely different.
For decades Detroit – once the car manufacturing capital of the world – has been a horror story of urban decay and rising crime as car factories shut and there were no jobs to replace those lost. But now we hear that Fiat-Chrysler is to re-open a car plant mothballed years ago creating thousands of new jobs.
Here's a link to the story:
https://www.breitbart.com/politics/2019/02/26/fiat-chrysler-to-reopen-idled-detroit-plant-bring-6-5k-u-s-jobs-back-to-michigan/
Another triumph for Trump that the BBC and C4 News and most of the UK mainstream media will definitely ignore.