(weekend blog)
This weekend I'd like to introduce you to Hewad Shivzad. It's just possible that the BBC and C4 News and all the other mainstream media will decide that Hewad Shivzad's story isn't newsworthy.
This young chap, Hewad Shivzad, is just 19 years old. Here he is:
What I mean is that he claims to be just 19 years old. Hewad Shivzad claims to be 19 years old now because, when he originally entered the UK to claim asylum in March 2017, he said he was just 17 years old. This hugely increased his chances of being granted leave to remain as a supposed 'vulnerable child'.
You or I might be tempted to think that this fine fellow, Hewad Shivzad, looks to be at least 30. But the Home Office and immigration authorities never do medical checks on would-be child migrants to establish their real age as that would be waaaccciiissssttt. So we have to accept that Hewad Shivzad is 19 years old as he claims. This mirrors the fiasco when Britain was forced by pressure from virtue-signalling progressive libtards to take in a bunch of supposed 'child refugees' from Calais. Most of these 'child refugees looked to be rather older than children: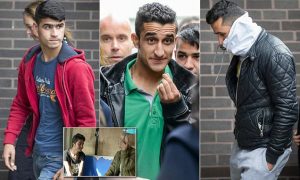 Talking of children, let me explain the contribution multi-cultural enricher Hewad Shivzad has made to our once great country.
Hewad Shivzad isolated a primary school-age girl and lured her away to subject her to a sexual attack lasting 30 to 40 minutes. He ignored her pleas for him to stop, sexually assaulted her and forced himself on her, Teesside Crown Court heard. If the girl was of primary-school age, then she would have been anything from 5 to 11 years old at the time Hewad Shivzad decided to give her a jolly good dose of multi-cultural enrichment.
A judge said the victim, who cannot be named for legal reasons, was a blameless, charming, innocent and "innately kind" girl. She read out a moving statement from the girl's mother, who said: "I'm worried that this will have ruined her life." The mum said the rape massively affected her daughter, leading to anger, violent behaviour and harming herself. "We are really struggling as a family," she added. "She talks about what happened all the time. I think that she's depressed. I really need some help for her."
Hewad Shivzad has been sent to prison. But he'll probably serve half or less of his supposed 15-year sentence and be out on the streets again in about 7 years or less. As far as I understand, there has been no mention of deporting him when he is released even though he clearly lied about his age to stay in Britain and even though he raped a child of primary-school age.
In his life in Britain, Hewad Shivzad will probably damage many more innocent lives and probably cost us millions of pounds in benefits and policing and prison costs. Yet nobody has considered throwing him out of our country. After all, as the progressive media and the brain-dead, virtue-signalling snowflakes produced by our failing learn-nothing schools and safe-space universities keep telling us:
Though the parents of tens of thousands of raped and abused girls might not agree with the progressive libtards that the Third-World detritus our rulers are so enthusiastically importing to turn our boring, white monocultural country into a thriving, diverse multi-cultural paradise are quite as harmless as the virtue-signalling elites claim.
I had always thought that the primary duty of any government is to protect its own people. It is not to give a life of luxury, with almost unlimited money and sex, to every piece of parasitic, pig-ignorant, illiterate, low-IQ, unemployable, deeply criminal, rape-obsessed Third-World sh*t who decides to come here.
It's clear from Hewad Shivzad's story and thousands of similar cases that our government has failed in this most basic duty.