(Friday blog)
I've actually read the UN Compact for Migration. It is truly frightening in what we will be signing up to. If I were to pull out the two most important points, I think they would be these:
1. It's aimed at encouraging ever-increasing migration
We commit to adapt options and pathways for regular migration in a manner that facilitates labour mobility and decent work reflecting demographic and labour market realities, optimizes education opportunities, upholds the right to family life, and responds to the needs of migrants in a situation of vulnerability, with a view to expanding and diversifying availability of pathways for safe, orderly and regular migration.
2. It aims to censor any media criticism of increasing migration
Promote independent, objective and quality reporting of media outlets, including internet-based information, including by sensitizing and educating media professionals on migration-related issues and terminology, investing in ethical reporting standards and advertising, and stopping allocation of public funding or material support to media outlets that systematically promote intolerance, xenophobia, racism and other forms of discrimination towards migrants, in full respect for the freedom of the media
We can already start to glimpse how this will work by looking at Justine Trudeau's Canadistan. Metrosexual Justine has decided to give $595m over 5 years in tax breaks to media that Justine considers to be 'eligible' and 'trusted'. I suspect that any media daring to criticise Justine's plans to flood Canadistan with migrants from our favourite religion will not be considered either 'eligible' or 'trusted'.
As Tommy Robinson could probably confirm, it's a very small step from handing out taxpayers' money to obedient "eligible" and "trusted" media to using the laws and prisons in order to "sensitize and educate media professionals on migration-related issues".
The difference between the American and European approaches to mass migration?
Here's the democratically-elected US President proudly displaying his hopes for his country: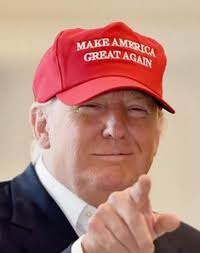 And here's the ruler of all Europe proudly displaying her hopes for her empire: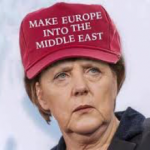 I know which one I wish was running the UK.