(Tuesday blog)
First, many thanks to a reader who found the press release in which MasterCard proudly announce that they are providing pre-paid debit cards (paid for mainly by us through the utterly corrupt UN, the equally corrupt EU and various holier-than-thou, self-serving, greedy, grasping charities) to the Third-World millions pouring over Europe's non-existent borders.
Here's what MasterCard say:
In celebration of World Refugee Day on June 20, MasterCard recognizes the 65 million refugees displaced from their homes and seeking refuge throughout the world. By leveraging our technologies and products such as MasterCard Aid Network and Prepaid, MasterCard collaborates with partners to provide essential services at the most critical times of refugees' lives. To date, MasterCard Aid and Prepaid cards have been deployed in humanitarian responses across Africa, Asia and Europe – in countries such as Turkey, Kenya, Yemen, Nepal, Ethiopia, Nigeria, Niger, the Philippines, and Greece – and are on-track to support thousands of beneficiaries
https://newsroom.mastercard.com/2016/06/20/mastercard-prepaid-debit-cards-provide-refugees-with-mobility-flexibility-and-dignity/
Here's one of these pre-paid MasterCards – it's called a "Cash Passport":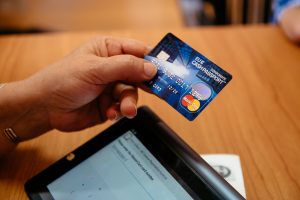 And here's a lucky multi-cultural enricher (his name is Ahmed) being taught how to get at our (sorry, I meant 'his') money: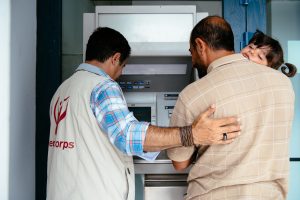 And here are some more MasterCard customers on their way to a life of luxury at our expense:
And here's how one Croatian official described the MasterCard customers who are currently attacking and overwhelming unarmed Croatian border guards:
According to him almost all migrants "are armed" as "almost all have a knife". "The Croats are really trying to handle this alone. They have also positioned Special Forces at the border," the expert says. There are barely any women and children in the group, 95 per cent are men and a border policeman has already been stabbed.
"The majority of them come from Pakistan. And there are many Iranians, Algerians, and Moroccans. Their goal is not Austria," the official added.
According to him the migrants want to go to Germany or one of the Scandinavian countries. "Most of the young men have prepaid credit cards supplied by the United Nations' High Commission on Refugees (UNHCR) and the United Nations International Children's Emergency Fund (UNICEF)," the official adds.
And here are some MasterCard customers helping border guards understand who is boss: