(weekend blog)
Welcome to Londonistan
I don't know if London's (IMHO) useless, 'blame everyone else for everything', increasingly invisible mayor, the vertically- and morally-challenged Right Honourable Sadiq Khan, is a cricket fan. But whether he is or not, we should congratulate him. He's just scored a century. Yes, a couple of days ago London had its 100th murder victim this year:
Perhaps Sadiq will be celebrating given that he can once again blame everyone else, especially the Tories, for this depressing achievement?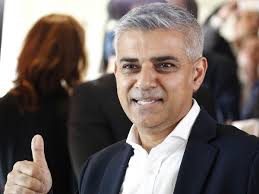 Actually, perhaps we should feel a little sorry for Mayor Khan. Apparently, under his mayorship London's hospital A&E departments have had so much practice dealing with knife and gunshot wounds that they're now saving many more lives than they used to. Otherwise the wonderful Sadiq would have got his first century this year months ago.
Of course, we should not just credit Sadiq alone for London's soaring murder rate. He has been ably assisted by his faithful sidekick, boss of the Met police Cressida 'Dickless' Dick:
If I remember correctly, among the key steps these two bastions of diversity, multi-culturalism and political correctness took when taking up office was removing "900+" experienced police officers away from frontline policing of real crime and dedicating them to fighting supposed 'hate crimes'.
They also made significant cuts to the Met police's 'stop and search' of those most likely to be carrying knives and guns as they felt 'stop and search' was unfairly targeting BAME communities and thus harming social harmony in London's multi-cultural paradise. Though, given that white Brits are now a minority in Khan's London, by stopping and searching BAME cultural enrichers, the police were actually targeting London's majority communities.
Some horrible people have dared to poke fun at Sadiq Khan due to his somewhat laid-back attitude to London's rapidly rising crime:
Others have wondered about Sadiq 'Bomber' Khan's insistence terrorism was just a normal part of life in a big city (when he is mayor?):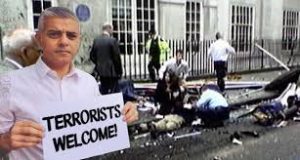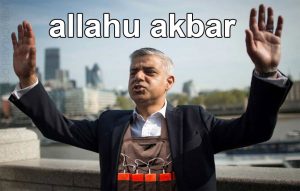 (Just joking Sadiq – this is just a feeble attempt at satire – please don't sue me or prosecute me for waaacccciiissssmm!)
And, of course, there are possibly cynical individuals who have speculated that Mayor Khan is more interested in sending the police to prosecute supposed 'hate crimes' than he is in protecting Londoners from terrorism, mayhem and murder:
Oooops, I almost forgot. This weekend is the Nottinghill Carnival – a colourful celebration of racial and sexual diversity. With any luck the Carnival will help add a few more to Sadiq's already impressive score of one hundred so far this year.
Meanwhile in Pakistan
Talking of Khans and cricket and centuries, here's another Khan with quite a few centuries under his belt. It's none other than cricketing superstar Imran Khan on his way to be sworn in as Pakistan's new leader. The person beside him, dressed as a Halloween ghost, is apparently his latest wife (number 3 or 4, I think):
I'm not sure if Lady Khan is smiling for the cameras or not.
The great Imran is apparently going to modernise Pakistan.
Really? Judging by his good lady's choice of clothing I think we can guess what that 'modernisation' will look like.
Though, even if Crickety Khan only managed to take Pakistan to where Europe was say 1,000 years ago, that would still represent a massive leap forward for a corrupt, backwards, violent, excrement-filled shit-hole like our ally Pakistan.
Back to London
And for anyone who hasn't seen it, here's my musical tribute to fragrant crimebuster – Cressida Dick: