(Thursday blog)
The lunacy of our lame-brained leaders
The International Monetary Fund (IMF) run by wrinkled French prune, Christine Lagarde, has just issued a new report on Spain's economic future: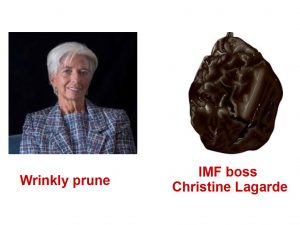 According to the wrinkled Froggy prune Lagarde's great organisation, Spain must open its borders to more than five million migrants over the coming decades in order to fund its pension system due to Spain's ageing population.
This claim comes despite data that shows 3.5 million Spaniards are presently unable to find work, and that the country's youth unemployment rate is stuck at 34 per cent. Even though Spain already has that huge wealth of untapped human potential suffering from unemployment, the IMF insisted that mass migration is the solution, by "increas[ing] the number of contributors to the pension system".
Why is this new report important?
Because our globalist rulers are making the same ludicrous claim about all Western European countries. Because it was this type of thinking which led Adolf Merkel to open Germany's borders to over a million invaders. Because it shows the utter stupidity of our lame-brained leaders.
So, let's briefly analyse just 3 reasons why the pro-migration elites are so totally misguided:
1. Artificial intelligence
At the same time as our rulers are lecturing us about the need to tear down our borders and let Africa and the Middle East in, we're also being warned about how artificial intelligence will destroy many traditional jobs and lead to mass unemployment in the West.
It is clear that increasing mechanisation of tasks reduces the need for workers. So we'll be hard-pressed to find jobs for our own citizens.
Thus, we have absolutely no need for migrant hordes from Third-World shit-holes
2. IQ, skills and employability
Here they are – the Europeans of the future: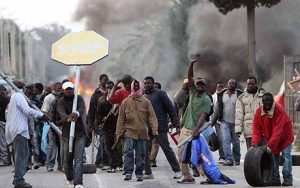 Apparently these are the doctors, engineers and computer scientists who will save Western Europe's ageing population from economic collapse.
At least that's what Adolf Merkel and French prune Lagarde and George Soros and the libtard BBC and C4 News and others of their ilk claim we pig-ignorant plebs should see in these pictures: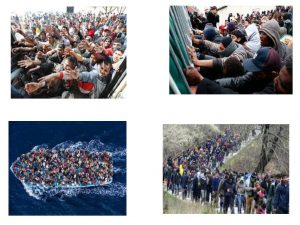 However, a misanthropic cynic might see an invading army of low-IQ, illiterate, violent, uneducated, unemployable human detritus who have ruined their own countries through their own stupidity and are now coming to ruin our countries turning Europe from an advanced civilisation into just another Third-World shit-hole:
3. Miguel's retirement plan vs M'hammed's retirement plan
But the biggest flaw in the Froggy prune's 'brilliant' report is that most of the Third-World invaders have absolutely no intention of spending their lives working to pay taxes to support the retirement of ageing Europeans.
Our lamebrained leaders envisage a golden future where Miguel and Fritz and Luigi and Costas and Soren will enjoy comfortable retirements paid for by the hard work and taxes of M'hammed and Abdul and Ali and Hamza.
However, M'hammed and Abdul and Ali and Hamza have quite different plans. They plan to get into Europe, have multiple wives, produce as many mini-Jihadis as possible and then live comfortably on benefits of up to €100,000 a year for the rest of their lives with free schooling for their mini-Jihadis, free housing, free healthcare, free everything while supplementing their income from crime and getting their entertainment from ….well…..you know what……..
So, there's a more than slight problem here – Miguel and M'hammed both plan to live comfortably from the hard work and taxes of the other.
Oooops, it seems as if our rulers haven't thought about how deal with this not inconsiderable contradiction.
Meanwhile, back in Britain – it's A'Level results day
Today over 200,000 school-leavers will decide to waste £60,000 each on useless degrees that won't lead to graduate jobs.
Today school-leavers get their A'level results. Around 500,000 of them will be celebrating and heading off to university in September.
But should so many really bother going to university? At around £60,000 in tuition fees and living costs a Uni degree will be the second most expensive thing these school-leavers and their families will ever buy. However for at least 200,000 of them, their degree will not lead to a graduate job and a graduate salary and yet will burden them with unrepayable debt for most of their working lives.
My latest book THE GREAT UNIVERSITY CON exposes how many universities have gone from being centres of academic excellence to becoming large corporate, profit-obsessed businesses with overpaid chief executives intent on cramming in as many tuition-fees-paying students as possible regardless of whether students will benefit from their degrees and be able to get graduate jobs. On many courses, less than one in ten graduates will get graduate jobs.