(Thursday blog)
Yesterday I made two horrific discoveries. I'm "cisgender" (also known as "cis") and I'm also "heteronormative". In these times of gender fluidity, transgenderism, self-defining and LGBTblah blah blah, to be both cisgender and heteronormative is apparently a total disaster.
What? Didn't you know what "cisgender" and "heteronormative" mean? OMG! OMG! OMFG! How prehistoric you must be! A cisgender person is someone who believes that they are the gender which they were born with. So, if they've got a dick, they believe they are male and if they've got one of these: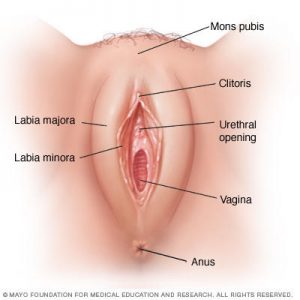 then they believe they are female. Yup, there really are still throwbacks like myself who identify with the gender they were born with.
As for being "heteronormative" – a "heteronormative" person is a kind of homphobic, transophobic, lesbophobic sexual fascist who ludicrously assumes that it is normal for males and females to be in a relationship and that gay couples, trans couples, lesbo couples, bi-couples and all such other permutations are not totally biologically normal.
I found a great (for "great" read "utterly laughable") article in the lefty libtard Huffington Post where one of these sexually-fluid creatures bleats about how awful it is when a heteronormative person assumes you are cisgendered. Here's just a very short extract:
You are imposing your concept of those things onto me, enforcing a binary that is paradoxical. Moreover, you are denying the gender fluidity of those who have a penis and identify as male, but prefer women's underwear or wear makeup or transgress norms in innumerable other ways. Adding more labels — like "cisgendered male transvestite" — in order to justify your act of aggression defeats the purpose of simplifying things with words like "cisgendered."
What is perhaps most disturbing in being called "cisgendered," is that it imposes an identity on me. Doing so invalidates my complicated experience of gender. Don't tell me that I am somehow normatively gendered for my body when my life experience has led me through periods of deep confusion about my gender identity and living as gender queer. How is living gender queer normative? How does that reconcile with the sex and gender roles society associates with having a penis? Moreover, you don't get to make a reductive statement about my gender identity or how I embody my gender while trying to argue for recognition of the diversity of other peoples' embodied genders. If you are going to argue for a less simplistic reading of others' embodied genders, than you have to do so with mine too. That includes recognizing that as a queer person, I'm automatically not inhabiting the normative roles society has constructed for those with a penis. My behavior, and sexual and romantic attachments aren't normative for "men." My intuitiveness isn't normative. My choices of profession haven't been normative. My mode of speech isn't normative.
By imposing the label "cisgendered" onto me, you do me psychological and intellectual violence.
And here's a very brief video explaining how devastating it can be when a heteronormative person treats you as …….
Sorry, I'm stopping now – there's only so much politically-correct total bollox one can write in a day: