(Tuesday blog)
As democratically-elected US president Donald Trump basks in the world media's attention in Singapore, I wonder if Nobel Peace Prize-winning has-been, Mr Obama, is sitting in front of his TV screaming with rage because it's not him who is the centre of attention.
By the way, can anyone remember exactly why Mr 'all-talk-no-trousers' Obama won the Nobel Peace Prize? No, me neither. Maybe it had something to do with his progressive, libtard, Izlumophiliac opinions, his excellent suntan and his racial background? And nothing to do with actually promoting peace anywhere?
As for the recent G7 bust-up in Canada, we now hear that our sad excuse for a PM, Theresa the Appeaser, is siding with metrosexual, floppy-haired man-child Trudeau against the US president. So, according to the waste-of-skin May, it's ok for Canada to impose tariffs of 270% on US dairy products but not ok for the US to impose tariffs of 10% on Canadian aluminium and 25% on Canadian steel.
Apparently there's an Internet competition to provide a caption for the picture I posted in yesterday's blog.
Not being creative, this was all I could come up with: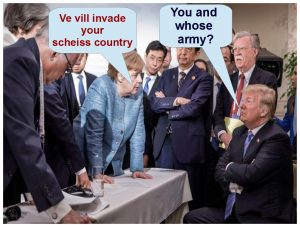 As for our Dithering Doris of a PM – I have a message for this useless, treacherous woman: