(Monday/Tuesday/Wednesday blog – I'll start 2018 slowly to give readers time to drift back)
We all know that all races have exactly the same level of intelligence. To think otherwise would be a "thought crime" and to express such a thought would be a "hate crime".
But almost every time there's an Izlumic terror attack, which as we all know has nothing to do with Izlum, the usual excuse wheeled out is that the perpetrator had mental health problems and/or drug problems.
But I'd like to play a game in this blog. The game is called "Let's Pretend to be Politically Incorrect". In this game, we pretend to believe the extensive research proving there are differences in intelligence between different races. I know this idea is absurd, but please stay with me for the moment.
The normal IQ Bell Curve
Here is a normal distribution of IQ levels in a typical Western country: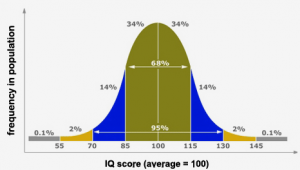 The average is 100 and most people tend to be bunched near to the average.
When IQ tests were more widely used, the lower levels of IQ were classified as follows: Borderline Deficiency (IQ 70-80), Moron (IQ 50-69), Imbecile (IQ 20-49) and Idiot (below 20).
You'll see that about 14% of Westerners fall into the Borderline Deficiency category and only 2.1% are classed as either Morons or Imbeciles.
IQ levels are probably the result of two things – heredity (the IQ inherited from your parents) and environment (the complexity of the environment in which you grow up and live) – the more complex the environment, the more your IQ is likely to develop. For example, it's possible that the complexity of the Chinese and Japanese languages helps their children develop higher IQs and there's evidence that children who study music also develop higher IQs
Differences between different races
Now, as part of our game, here are the results of IQ studies for the main regions of the world along with the regions' GDP per head of population: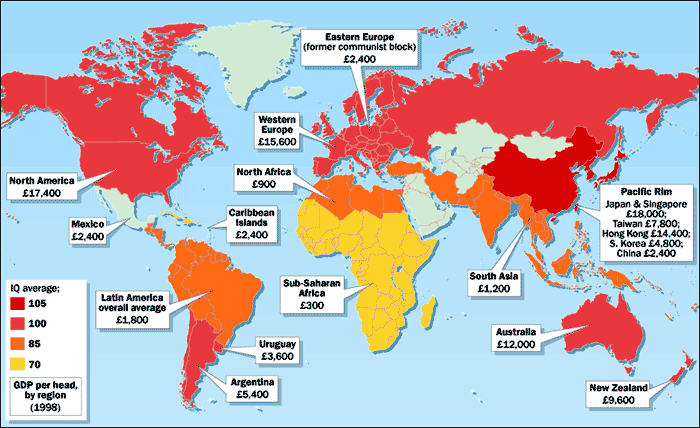 We could also look at this in terms of Bell Curves: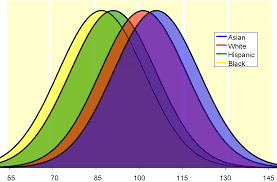 (Asian in the above Bell Curve drawing of course means Japanese, Chinese and Koreans etc not the 'Asians' our press refer to when trying to obscure the religion of our many rape gangs)
As you'll see, the average IQ of Hispanics and North African Arabs is just 85 (in our game, not in real life, of course) meaning that about 40% of them would be classed as mentally deficient in Europe. And then when you look at Sub-Saharan Africa, the average IQ is just above 70 meaning that probably 80% of them would be classed (in our game) as mentally retarded.
Our rulers' race replacement policies
When Chinese or Hindus or Jews or Sikhs move into a country or an area, you don't hear all the progressive lefties and virtue-signallers screaming about how we need to do more to integrate the new arrivals. Why not? Because they come from races with high IQs (in our game, of course) and so get jobs or set up businesses and make sure their children get education to become the doctors, teachers, scientists and professionals of the future.
But our rulers have decided to open Europe's borders to millions of multi-cultural enrichers who come from races with much lower average IQs than Western Europeans (in our game, of course, not in politically-correct reality). Using the figures on average IQs in our game we can see that over half the newcomers are likely to have an IQ that Europeans would consider makes them mentally retarded. This means they can't learn any useful skills to get jobs and have nothing to contribute to our society. In Sweden just 3% of 'New Swedes' have taken advantage of generous government support to get an education – an amazing 97% can't be bothered to get any education and/or don't have sufficient IQ to benefit from any education. Moreover, latest research suggests that the median IQ of the Swedish population has fallen by a point every four years since 1995.
This inability of the millions of Merkel's, Macron's and May's multi-cultural enrichers to function in an advanced Western society has at least two destructive consequences:
1. Criminality
Due to their low IQs, many of the new wave of multi-cultural enrichers are likely to drift into drug use and criminality. After all, if they can't get the things we can have through working and earning, they'll take them anyway through burglaries, robberies and rapes.
2. Hate and Violence
The other typical reaction of someone who is unable to function in an advanced Western society because of their low IQ is a need to find someone else to blame for their problems. After all, they cannot accept that they are the agents of their own misfortune because most of them are not intelligent enough to function in Western society. So they will tend to be easily seduced by any cult or belief system that tells them they are really superior to us Westerners and that they should take over and destroy our societies to impose their own vision of society – violence, barbarism, rape, murder, tribalism and constant conflict – on us.
Conclusion
Of course, all the above is just a game – "Let's Pretend to be Politically Incorrect". Clearly we all know that all races have exactly the same IQ levels and therefore everything I've written above must be total rubbish.
I really am a complete idiot to have written such tripe!
By the way, given that all races are exactly equal in every way in a world of perfect political correctness, I wonder why so many men of colour have won gold medals in the 100 metres Olympics sprint and so few Chinese have? Odd, don't you think?
(click on title if you wish to leave a relevant comment)