Normally when there's some big, 'important', heavyweight boxing fight the multi-millionaire promoters stage a series of press events at which the multi-millionaire boxers snarl at each other and curse each other and try to hit each other. Sometimes we'll even be told this is a 'grudge fight' and so we should expect wonderful entertainment as two pig-ignorant thugs try to batter each other into unconsciousness.
Why do the promoters do this? To get publicity to convince the suckers to pay their £10 or £20 or whatever on pay-TV to watch the 'big fight', the 'fight of the century', the 'greatest fight of all time' etc etc.
But with this weekend's fight between Britain's Anthony Joshua and Ukraine's Wladimir Klitschko, every time the two opponents meet for a press event, they can hardly stop smirking or even smiling: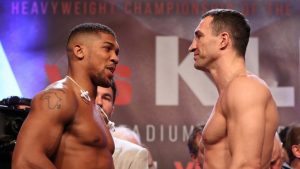 Why the happy faces when they're about to be pummeled by someone extremely large and extremely strong? Because both are rather intelligent and rather gentlemanly people and so probably couldn't bring themselves to do the 'snarling, cursing animal act' that boxing press events normally try to produce. Like his boxing brother, Wladimir Klitschko is highly educated and has a PhD. As for Joshua, he's said to enjoy playing chess and most people meeting him remark on his intelligence. Moreover, both men have had similar careers. Both were Olympic Gold medallists before turning professional
As for the smiles – both are probably thinking of all the money the fans/suckers are going to shower on them – about £10m to £20m to each of them for the fight.
This is probably the last fight of Klitschko's career. And at over 40 years old he can possibly hardly believe his luck that people are so eager to pay so much money to see a middle-aged man bow out of his sport. No wonder he's smiling!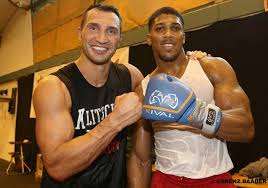 As for Joshua, to get over £10m a fight when he's still at a fairly early stage in his professional boxing career must seem like a miracle come true. At this rate, he'll probably pocket up to £100m before he follows Kiltschko into a more than extraordinarily comfortable retirement in about ten years and ten fights time. No wonder he's smiling!
It's odd that the gravy-train-riding boxing 'journalists' tend not to mention what a charade the whole thing is. 'Snouts in the trough' anyone?
Anyway, good luck to the two men. There's no reason to envy their good fortune. They've both worked hard and struck gold.
I hope they both have long, happy, healthy lives to enjoy their many tens of millions.