Yesterday, the useless, always-wrong IMF issued yet another of its utterly worthless forecasts. The IMF, of course, claimed that Brexit (which hasn't happened yet and probably won't happen for about two years) will negatively affect UK economic growth. Just like former Goldman Sachs banker Carney and all the other establishment elites, the IMF is trying to trash economic confidence in order to prove they were right to claim Brexit would be an economic disaster:
In fact, the FTSE100 is at the highest it has been for months reducing the deficits on many British pension funds and the fall in the previously overvalued pound will do wonders for British exports and the British tourist industry. We're already seeing some benefits of Brexit – it's my limited understanding that Tata Steel has recently delayed the sale of its Port Talbot plant because the pound's fall has made it more competitive thus potentially saving thousands of well-paid, skilled British jobs.
It seems that the establishment's 'Project Fear' is still alive and well even though the facts on the ground suggest that Brexit is actually having a beneficial effect on the British economy.
I'm sure we all know that this latest IMF 'forecast' will turn out to be just as misguided as almost everything coming from the Goldman-Sachs-dominated IMF.
But that got me thinking about other forecasts that have been monumentally wrong. For example, I just came across a wonderful article from the Guardian earlier this year where the great newspaper predicted Donald Trump's likelihood of securing the Republican nomination as being between 0% and 2%. Ooops!
Though the consensus at the same time of US pollsters, who probably know more about their country than the Guardian, was that Trump actually had about a 17% chance of winning the Republican nomination: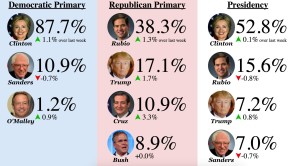 Again, ooops!!
The US polls also suggested that Trump had a 7% chance of winning the Presidency. Hey, I'm no forecaster, but I'd put Trump's chances at more like 70% against Goldman Sachs's well-paid stooge Crooked Hillary Clinton.
And finally, I saw this photo of the latest Hyde Park riots in London yesterday: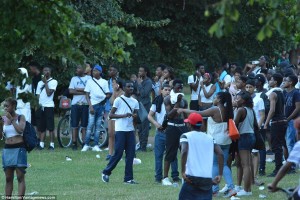 If any reader can spot something odd about this picture of multi-cultural Britain, they must be even more racist than me.