Forget the Euro 2016 football! Forget Wimbledon! Even forget the Rio Olympics! The score everybody wants to know is how well the followers of the Religion of Tolerance and Peace did during Ramadan 2016.
I have been regularly reporting on progress during Ramadan. The number of religiously-inspired attacks was running at about eight a day compared to the 'normal' level of just four a day. And the number of deaths reached almost seventy a day compared to a 'normal' average of a mere twenty six  a day. But by the third week of Ramadan, the number of deaths had fallen perilously low, making Ramadan 2016 beginning to look like a typical English batting collapse.
Then, thankfully our brothers in Iraq made one final push to make Ramadan 2016 go out with a bang. A massive bomb in Baghdad took out no fewer than 292 innocents. Well done the Boys from Baghdad! Superb effort!
They were helped by our brothers in Syria who obliterated around 70 innocents in just two attacks.
All that really boosted the final Ramadan 2016 score: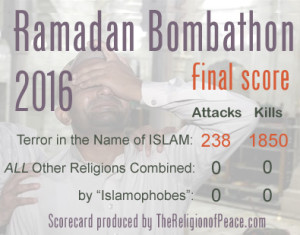 But, of course, we were all let down by our hopeless brothers in Saudi Arabia who managed to kill just four people in a series of attacks during the last week of Ramadan 2016. Hopefully, they'll learn from their mistakes and do better next year.
All this meant that the number of attacks per day still stayed at around eight a day. But it is in the number of dead that the Baghdad attacks got Ramadan 2016 back on its bloody track of mayhem and murder.
So, the final score for Ramadan 2016's 30 days is no fewer than 1,850 innocents slaughtered in the name of the Religion of Peace – that's back up to over sixty a day.
Here's a list of just the last seven days of mayhem and murder. Well done, everybody who took part and see you all again for another bloody Ramadan next year:
| Date | Country | City | Killed | Injured | Description |
| --- | --- | --- | --- | --- | --- |
| 2016.07.07 | Bangladesh | Sholakia | 3 | 13 | A woman is among three taken down by an Islamist bomb and shooting attack during Eid prayers |
| 2016.07.07 | Iraq | Balad | 20 | 50 | Twenty Shiite pilgrims are blown up by a Sunni suicide bomber at the beginning of Eid. |
| 2016.07.06 | Afghanistan | Sancharak | 4 | 1 | Four family members are wiped out by a Shahid suicide bomber. |
| 2016.07.06 | Syria | al-Zahraa | 2 | 6 | Two children are turned to paste by a Sunni rocket. |
| 2016.07.05 | Syria | Um al-Housh | 40 | 0 | Women and children are among forty civilians captured and 'mercilessly' executed by the Islamic State. |
| 2016.07.05 | Syria | Hassakeh | 30 | 40 | A suicide bomber massacres thirty innocents outside a Shiite bakery. |
| 2016.07.04 | Saudi Arabia | Medina | 4 | 5 | Four guards are killed by a suicide bomber outside Islam's second holiest mosque. |
| 2016.07.04 | Iraq | Sharqat | 7 | 0 | The Islamic State boils seven members alive. |
| 2016.07.03 | Philippines | Sumisip | 2 | 0 | Two off-duty soldiers are machine-gunned point-blank by two Abu Sayaaf gunmen. |
| 2016.07.03 | Libya | Banghazi | 2 | 7 | An ISIS car bomb explodes in a busy district, killing two traffic cops. |
| 2016.07.03 | Iraq | Shaab | 5 | 16 | Jihadis set off a bomb in a commercial district that claims five lives. |
| 2016.07.03 | Iraq | Karrada | 292 | 212 | A Fedayeen suicide bomber detonates in a shopping mall packed with Shiites, slaughtering nearly three hundred, including many children. |
| 2016.07.03 | Thailand | Yala | 2 | 0 | Two civilians are neatly taken out by Muslim bombers. |
| 2016.07.03 | Iraq | Kirkuk | 7 | 0 | Seven civilians are executed by caliphate members. |
| 2016.07.03 | Iraq | Arabi | 2 | 0 | A father and son are executed by the Islamic State after three months in captivity. |
| 2016.07.02 | Bangladesh | Satkhira | 0 | 1 | A Hindu priest is stabbed at a bakery by Muslim extremists. |
| 2016.07.02 | Afghanistan | Jalalabad | 2 | 17 | A Shahid suicide bomber on a motorbike kills two bystanders. |
| 2016.07.02 | Afghanistan | Khorasan | 3 | 0 | Video shows three 'apostates' executed to religious music by child soldiers. |
| 2016.07.02 | Afghanistan | Khakrez | 4 | 0 | Four people are taken out by a Taliban bomb blast. |
| 2016.07.02 | Somalia | Baidoa | 2 | 19 | Two girls, ages 4 and 5, are disintegrated by an al-Shabaab mortar round. |
| 2016.07.02 | Syria | Elkheir | 1 | 0 | A man is brutally beheaded for 'pledging to infidels'. |
| 2016.07.01 | Bangladesh | Jhenaidah | 1 | 0 | A Hindu temple worker is hacked to death. |
| 2016.07.01 | Kenya | Wak | 6 | 2 | Children are among six people on a bus brutally machine-gunned by religious radicals. |
| 2016.07.01 | Israel | Hebron | 1 | 3 | Palestinians fire on a family's vehicle, killing the father and injuring his wife and two children. |
| 2016.07.01 | Iraq | Baghdad | 5 | 30 | Five people lose their lives to a Fedayeen suicide car bomber. |
| 2016.07.01 | Pakistan | Haripur | 1 | 0 | A man is shot dead by a conservative family for marrying their dauther without permission. |
| 2016.07.01 | Bangladesh | Dhaka | 22 | 26 | Seven terrorists take hostages at a restaurant and summarily execute all who cannot quote from the Quran. |
| 2016.07.01 | Syria | Damascus | 1 | 0 | A pilot is murdered by Jaish-al-Islam. |
| 2016.07.01 | Iraq | Tuz Khormato | 2 | 4 | A suicide attack at a Shiite mosque leaves two dead. |
| 2016.07.01 | Afghanistan | Kandahar | 5 | 0 | Five local cops are gunned down by the Taliban. |
| 2016.07.01 | Afghanistan | Shahwali Kot | 7 | 0 | Three woman are among a family of seven murdered in their home by Sunni militants. |
| 2016.07.01 | Somalia | Mogadishu | 1 | 0 | A moderate cleric is shot to death by more-radical co-religionists |