In the 5-year period from 2009 to 2013, an astonishing 680,000 migrants from M*sl*m countries were given Green Cards to move to the USA.
Of course, we all know that Christians are brutally persecuted in M*sl*m countries: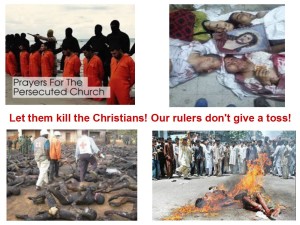 So perhaps some of these migrants were Christians fleeing M*sl*m persecution. Um. Actually, not really.
For example, Christians used to make up about 10% of the Syrian population. But of the 1,037 Syrians admitted to the USA last month (May) there were 1,035 M*sl*ms and only 2 Christians (0.19%)
Of the 2,099 Syrian refugees admitted to the USA so far this year, six (0.28%) are Christians, 2,043 (97.3%) are Sunni M*sl*ms. The remaining 50 are 17 (0.8%) Shi'a, 30 (1.4%) other M*sl*ms and 10 (0.47%) Yazidis.
Similar proportions are seen in the number of Syrian refugees having arrived in the U.S. since the start of fiscal year 2016: 2,773 in total, comprising 12 (0.4%) Christians, 2,703 (97.4%) Sunnis, 17 (0.6%) Shi'a, 30 (1.1%) other M*sl*ms and 10 (0.3%) Yazidis.
And since the conflict erupted, of a total of 4,646 Syrian refugees admitted, 60 (1.3%) are Christians; 4,422 (95.1%) are Sunni M*sl*ms. The remaining 163 include Shi'a, other M*sl*ms, Zoroastrians, Baha'i, Jehovah's Witnesses, Yazidi, and refugees identified as "other religion" or as having "no religion".
Meanwhile, across M*sl*m countries, Christians are being persecuted and slaughtered in record numbers:
There was an attack in Pakistan where M*sl*ms were angered that a Christian family owned a small plot of land. Eleven M*sl*m men tied up and beat the Christian parents then raped their 14-year-old daughter repeatedly in front of them. The rape was so brutal that the mother pleaded with the men to just penetrate her daughter one at a time. I expect that family will soon be leaving the village, conveniently abandoning their land to be divided up among the locals.
Christians have also been attacked by M*sl*ms in at least 15 countries in the last month, including in Britain and Germany. The British press forgot to tell us that the man who stabbed a few women in a supermarket car park was shouting something about Lee Rigby. And in German refugee centres, Christian refugees are being harrassed and beaten up by M*sl*m security guards and by M*sl*m refugees while the German authorities look the other way.
What is this new madness that makes us abandon those who share our Christian heritage and embrace those who hate us and only wish to harm us?
Are we lemmings rushing to our own doom? Killed by political correctness?