I've written before about how when New Labour first came to power in 1997, the NHS had about 210,000 hospital beds and 25,000 managers (8 beds per manager). By the time New Labour lost to the Coalition, there were in the region of 150,000 hospital beds and 43,000 managers (3.5 beds per manager):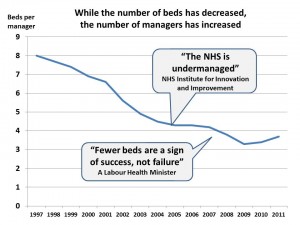 Since the Coalition took power, the number of managers has started falling and is now at around 38,000. So the number of beds per manager has gone up slightly over the last few years.
But it's not just the ever-increasing numbers of managers that are killing our public services, it's the managers' ethics (or rather lack of any ethics) that is so destructive. Just one example from my own experience.
Britain's most expensive car park?
A few years ago I was an elected governor of my local NHS hospital trust. I became concerned at the £5.3m cost of a relatively small multi-storey car park being built for the hospital. I did a little research and found that the hospital was paying about £7,800 per parking space whereas for similar car parks built for shopping centres the cost was nearer £5,000 per parking space.
I had a contact in the company building the car park and he confirmed that the hospital was paying over £100 per square foot for its car park, whereas a shopping centre would only be paying around £70 per square foot. So the hospital car park should have only cost around £2.94m and not the £5.3m the hospital was paying.
The 'cover pricing' scam
Around that time, the Office for Fair Trading (OFT) completed an investigation into how construction companies were fleecing the public sector. The investigation revealed that the main construction companies had formed a cartel that decided which company would win each public-sector project. That company would put in an over-priced bid and then a few others would put in even higher bids to give the public-sector buyers the impression that there was real competition when, in fact, the whole bidding process had been fixed from the start.
The OFT fined a few companies about £129.5m. The company which got the largest fine happened to be the very same company building the hospital car park
I don't want to know
Quite pleased with what I found, I took my results to the hospital chief executive and explained that the hospital could claim over £1m back from the construction company. I was, as far as I could see, being a pretty effective elected governor. However, the reaction of hospital management was something akin to horror. I guess I had shown them up to be fools and dupes who had wasted a rather large lump of the hospital's money and my findings could have been damaging to their precious, well-paid, extremely well-pensioned careers. So, I was informed in writing that by exposing the the car park 'cover pricing' scam I had gone outside the "auspices of the role defined for a governor" and the whole matter was quickly swept under the carpet.
With managers in today's public sector, there's little to no sense of public service. Most executives and managers are only in the public sector because you don't have to be particularly talented to rise to the top and because of the rewards – risk-free easy job for life, good salary, massive pension with opportunities for early retirement with an enormous tax-free lump-sum payoff.
Inconsistent, inexperienced and incompetent
At a conference of suppliers of IT systems to the public sector, one executive of a large computer company laughingly explained that his company made huge amounts of money from their public-sector contracts because public-sector buyers were "inconsistent, inexperienced and incompetent".
He certainly got that right. Though perhaps he should have also added "self-serving"?