Readers may or may not be aware that there's a rather unpleasant scrap going on in the business world between US computer and printer company HP (Hewlettt Packard) and a British company called Autonomy which HP bought for about $10bn in late 2011.
But in November 2012, about a year after paying $10bn for Autonomy, HP bosses announced a $8.8bn writedown because the British software company wasn't worth quite as much as HP executives had previously imagined. So now HP are threatening to sue Autonomy's former owners and accountants for billions: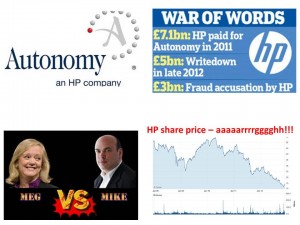 But this is not the first time HP has paid billlions to buy another company and then had to admit the whole thing had been a massive cock-up. In August 2012, HP announced it was writing off around $8bn because a company it bought for $13.9bn a few years earlier (EDS) wasn't worth quite as much as HP management had previously thought or hoped.
To paraphrase Oscar Wilde's Lady Bracknell in The Importance of Being Earnest: 'to write off $8bn one time may be regarded as a misfortune; to write off $8bn twice looks like carelessness'.
Now, there's nothing wrong with a company losing money. It can happen to the best of businesses – a competitor may cut prices, a new technology may make a company's products outdated, a change in consumer taste might catch a company out. And if a company does lose money for one or more years, you hope the company's executives will take action to restore profitability.
But writing off billions on companies you've bought is somehow much worse than losing money from normal competitive trading – either you paid billions too much or else your appalling management of the company you bought has unfortunately destroyed billions of your shareholders' money. To do this once is certainly unfortunate, to do this twice does start to suggest words like 'stupidity', 'incompetence' and 'bungling' on an almost cosmic scale.
In fact, these weren't the only writedowns HP's management have recently made. There was also the not insignificant matter of HP writing off over $3bn in 2011 after it bought Palm computers a year before.
HP was an extraordinary success story. It was the first company in Silicon Valley and grew from two founders, Bill Hewlett and David Packard, working in a garage in 1939 to become one of the largest companies in the world with annual revenues of over $130bn and more than 300,000 employees in 170 countries. HP was so successful that one of its founders, David Packard, even wrote a book The HP Way explaining the unique business philosophy and management techniques the company used.
But the last few years have not been kind to HP. The share price was once above $130. But by 2013 it had collapsed at one point to around $13, making HP a member of what's jokingly called "The Ninety Per Cent Club" – companies whose management have managed to reduce their value by ninety per cent.
The curse of the MBA?
HP's impressive rise and even more impressive fall may not just be the story of only one company. Several once great American and British businesses seem to have followed the same sad trajectory as HP. They are started by innovators and entrepreneurs. By knowing their products and their markets they achieve rapid growth and are soon employing many thousands, sometimes hundreds of thousands, of people. Investors want a piece of their success and the share price heads towards the heavens.
But as the founders and those who have shared their vision retire, they are gradually replaced by a new generation of executives. This next generation probably all have top MBAs (Masters of Bugger All) from the best business schools and know all about the latest management theories and strategic models and quantitative techniques and marketing tricks and organization structures and so on and so forth. Moreover, the members of this new generation usually believe that their managerial skills can be used to run any business in any activity sector.
But all too often they are proved wrong. Knowledge of a company's products and markets can be important and without it these MBAers find they don't know how to continue the innovation that built the businesses they are now managing. In HP's case, many of the lessons laid out in David Packard's book seem to have been forgotten or ignored by the new generation of executives.
Unable to innovate their way to further growth and improved profitability, the MBA generation use the only two strategies they seem to know. Either they brutally cut costs to increase margins and their own bonuses. Often this demoralizes staff, reduces innovation and harms customer service. Moreover, it tends to lead to an exodus of the more talented employees as they leave to join the next wave of entrepreneurial, growing businesses. Or else, to make up for their own inability to grow the companies they run, the MBAers try to generate growth by buying younger, still entrepreneurial and growing companies, frequently at hugely inflated prices.  But then the MBAers impose the deadening grip of their own unimaginative management on their new acquisitions and stifle precisely the enthusiasm, creativity, innovation and entrepreneurialism they had paid so much to acquire.
Predictably the best people vote with their feet by leaving the newly bought company and the MBAers wake up one morning to find they are left with a very expensive, but almost worthless, empty shell and are forced to make massive writedowns on their acquisitions. Then they buy yet another growing company and the cycle repeats itself – costs are mercilessly cut in the acquired company, more talented employees leave and there's another huge writedown.
Looking at HP's three massive writedowns one could get the impression that a bunch of puffed-up but useless MBAers are managing to destroy a once great company without really trying.