As British M*sl*ms react with the usual foam-flecked fury to a very reasonable and moderate letter sent to British mosques by government ministers Eric Pickles and Lord Ahmed asking imams to do more to counter extremism in their communities, I gave my cross-breed mutt a simple test. I gave him two words – "Democracy" and "*sl*m" – and asked him to quickly write down what he associated with each of these two words.
With "Democracy" everything went fine. Here are the results: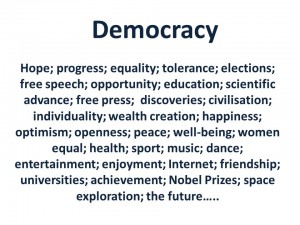 But when it came to "*sl*m" the stupid beast could only come up with negatives:
As punishment for his ignorance, I've sent my dog on a 3-day "Cultural Awareness for Canines" course run by my local council to help British dogs adapt to life in the glorious multi-cultural Britain our rulers are creating for us without having asked our permission.
When the dumb animal gets back from his training course, I'll be giving him another test of his political correctness. And this time he'd better have shown some improvement in his cultural awareness.
But, in the meantime, if you'd like to help my dog, click on the title of this blog and in the box put in all the positive things that you can think of that "*sl*m" has contributed to Britain.
You see, when I tried to help my dog, I couldn't think of any either.
(Incidentally, a phobia is defined as 'an irrational fear'. But if, like my dog, you believe that *sl*m is the greatest threat to civilisation and progress in the world today, then it is not 'irrational' to fear it. In fact, it is entirely rational. Therefore, '*sl*mophobia' cannot exist)