This year I expect we'll get the usual strikes by Britain's teachers demanding more money, more pensions, more free time, more everything. But perhaps we should be paying our teachers by their results rather than by how much they shout and scream.
And their results aren't too impressive. There's a series of internationals tests – the PISA tests (Programme for International Student Assessment) carried out every three years. These have become the most influential rankings in international education, based on tests taken by more than 500,000 secondary school pupils. These measure education standards in Europe, North and South America, Australasia and parts of the Middle East and Asia. Tunisia was the only African country that participated.
Here are the PISA results since 2000 (click to see more clearly)

Each time, the UK has fallen ever lower in the three main areas tested – maths, reading and science. In 2012, the dismal news continued with Britain dropping from 16th to 21st in science, though in reading Britain stabilised at 23rd and in maths at 26th.
It should perhaps be noted that the worst falls in rankings occurred under Tony Blair's 'education, education, education' New Labour when government spending (wasting?) on education and training shot up from £38bn a year to over £73bn a year over the ten years from 1997 to 2007.
But education matters. Here's a chart showing employment by educational level (click to see more clearly)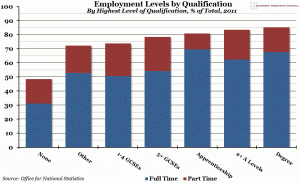 It proves the obvious – the better educated one is, the more likely one is to be in employment. Though there's one interesting statistic – those with apprenticeships are more likely to be in full-time employment than those with degrees. This should hopefully expose the stupidity of New Labour turning technical colleges and polytechnics into universities in their attempt to get half of our children to go to university, often to get totally useless and expensive degrees.
As for our teachers. Maybe they should get a pay rise when Britain gets back into the top ten in the PISA rankings? Until then, they should be doing better.
(remember my latest book DON'T BUY IT! is available from Amazon as an ebook at only £0.99p for a very limited period. You can read it on a Kindle reader, your smartphone or your computer. Now is the time to get a copy before the promotion ends http://www.amazon.co.uk/Dont-Buy-It-tricks-salespeople-ebook/dp/B00J0Y59GC/ref=tmm_kin_title_0 )