The Britain I came back to in 2005 seems to me to be a much harsher, more negative, more selfish country than the Britain I left in 1980 when I went to live and work abroad for about 25 years.
Just one small example. As this survey indicates, the level of "financial literacy" in the country is shockingly low (click on picture to see more clearly)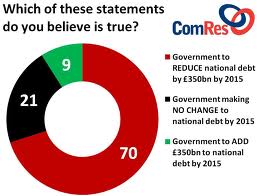 Only about 9% of voters understand that as long as the country has a deficit, then our national debt will increase.
This shockingly low level of "financial literacy" has allowed people in financial services to extract extraordinary amounts of money from ordinary savers, while giving little to nothing in return. That's why I wrote my book "PILLAGED How they're looting £413m a day from your savings and pensions…and what to do about it". The book only sold a laughable 1,000 or so copies. Yet millions and millions of people are delighted to waste their money voting on supposed "talent" shows. But spend just a few quid on a book that will help them protect their money? No way!
To try and help educate people, I've now put together a talk about how the financial services industry rips us off – "THE GREAT SAVINGS AND PENSIONS SCANDAL…and how to protect your money". I've been contacting chambers of commerce and business schools offering to do the talk for them – nobody is interested. I did find one opportunity and will be doing the talk in London on the evening of 24 February at a meeting of an organisation called the Economic Research Council (ERC)
Anyway, I did something a little naughty – to try to get some more people to attend, I mentioned the talk in a few comments on personal finance articles in the Telegraph and the Times. I was shocked and disappointed at the flood of abuse I got from other readers.
Here are a few of the more printable comments:
"Please disclose your qualifications? I'm not an IFA but do remember a similar talk from a firm selling crooked investments and how you should cut out the independent investment guy and go direct. They went broke by the way"
"I suspect you would not pretend people are being conned, unless you have a con in mind yourself!"
"Why not come along? Do you actually know what you are talking about laddie? Or are you just another socialist trying to blame your failure in life on others who have made more money than you?"
"Thank you for the invitation david dear.
But on the 24th I am washing my hair and spoiling my old Pussy with a very special rabbit supper.
But do tell"
"If you think that the ERC is anything other than a bunch of incompetent socialist fools then you are as bad as them."
And one reader, a retired financial adviser, threatened that he would be coming with some other financial advisers to disrupt and sabotage my talk.
I don't understand this. If people aren't interested in attending my talk, then fine. But I can't grasp the mentality of people who unleash so much bile when all I'm trying to do is help educate a public that desperately needs educating.
By the way, no blog tomorrow as I'll be up in London trying (vainly?) to generate some speaking opportunities for "THE GREAT SAVINGS AND PENSIONS SCANDAL"
(click on title to comment or to see comments)