Thanks to a reader for suggesting that I run a "Trougher of the Year" competition. Here is the prestigious "Trougher of the Year" trophy: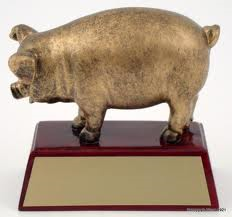 I imagine many of our useless, lying, greedy, incompetent, self-serving, arrogant, overpaid, over-pensioned rulers are desperately keen to win this much sought-after award. But whose name should be inscribed on it for 2013? Who has really excelled themselves in troughing? Who should receive this unique honour?
Over the next couple of months on this blog, I'll look at all the best candidates, maybe covering one or two a week explaining why each should win this coveted award. Then in December, I'll ask readers to vote for their favourite.
To win this magnificent award, a trougher must combine pocketing huge amounts of taxpayers' money while being totally useless at what they're paid by us to do for us. Being a serial liar also helps.
I realise that many people probably think there is just one clear, almost unbeatable favourite to win the "Trougher of the Year" trophy – the fragrant Baroness "the pig" Ashton. But I hope to bring you many more equally or even more deserving troughers with truly excellent qualifications and achievements to  match those of the lovely Ashton.
So, if you have any people you'd like to propose for the Trougher Trophy, then just click on the title of this blog and send me the names. I'll investigate and try to build a case as to why your choice should win Britain's most coveted award.
To help you, here are just a few of the people who could well win the "Trougher of the Year" trophy.
But I'm sure you'll be able to propose others I haven't thought of.
So, click on the title to today's blog (or on any future blogs) and send in your suggestions for our "Trougher of the Year" trophy.
And remember, whatever else people may say about our once great country – Britain's Got Troughers