Wednesday/Thursday blog
Police – Diversity more important than crime?
Hopefully all readers will fondly remember Cressida Dick. Dame Cressida Rose Dick DBE QPM is a British retired senior police officer who served as Commissioner of London's Metropolitan Police from 2017 to 2022. She is both the first female and first openly homosexual officer to lead the Metropolitan Police Service, or the Met, in London. Dick joined the Met in 1983.
When appointed, New Met chief Cressida Dick reportedly said: "diversity is at the heart of her role". In 2018, Dick launched a campaign to increase the proportion of female officers in the MPS. At the time, 27% of Met officers were women; Dick aimed to increase that figure to 50% over time, although she did not set a target date. Later she was quoted as saying: "We're growing, we're bigger, more capable, more diverse, more scrutinised and better equipped than ever before. The streets are safer and I'm proud of that."
Despite the venerable Ms Dick claiming London streets were safer under her magnificent management, the crime figures recorded by the police told a different story:
You'll see crime increased every year that Dick was in charge of the Met only dropping in 2020 when the lab-leaked Sino/American plague lockdowns were imposed.
Just in the year Cressida launched her campaign to increase the number of female policepersons, there was around a 20% increase in violent crime: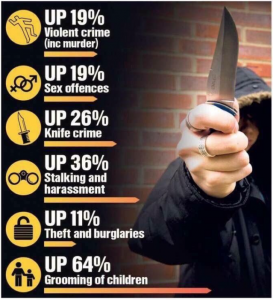 As is always the case in our useless public sector, Ms Dick got lots of gongs and stuff rewarding her failure: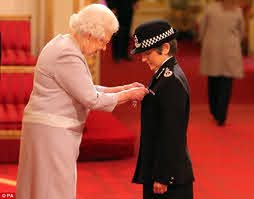 From what I have read, Cressida herself ticked a few important diversity boxes: female – tick; lesbian – tick; married to a woman – tick. If only she had been black or Asian, she'd have had a 'full house'. A cynic might be tempted to conclude that Cressida Dick was chosen for her diversity credentials and not for any ability to fight crime which increased inexorably under her watch. Cressida was eventually pushed to resign (with about £160,000 of our money plus a massive pension) after a series of blunders and scandals.
NHS – Diversity more important than patient care?
This is the latest big boss at the NHS: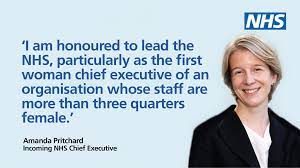 When she was appointed NHS head honcho Ms Pritchard said: "I'm thrilled to have been appointed as the first woman leader of the NHS. For an NHS which is 75 per cent women, it's a particular honour. But I would say that I think it is the diversity of the NHS that really makes it very special. So, really delighted to represent women, but very keen to make sure that the NHS continues to be somewhere that embraces diversity and inclusion at its core."
Oh dear, sounds a bit like Pritchard is singing from the same woke songsheet as the (in my profoundly ignorant very humble opinion) 'appallingly incompetent' Cressida Dick who seems (to an ignoramus like myself) to have put increasing Met police diversity above old-fashioned things like fighting crime.
And now we hear that Amanda Pritchard's woke, diverse NHS, which is the envy of the world, has proposed spending around £50m of our money creating three new departments – Equality, Diversity and Inclusion, People and Culture, and People and Communities. There will reportedly be 244 roles recruited for across the departments, despite Health Secretary Barclay writing to health bodies in March demanding diversity and inclusion be covered within 'normal management processes' rather than by specific teams.
It doesn't seem to have occurred to Amanda 'Cressida Dick' Pritchard that, if she has a spare £50m, it might be better spent on medical staff to deal with the 8 million or so people on NHS waiting lists
But the greatest stupidity of the NHS's current obsession with diversity is that in terms of the gender and ethnicity of its workforce, the NHS is already more diverse than the UK population:
More than three quarters of the NHS's workforce are female compared to about half of the UK's population
Of the NHS's 1.3 million employees, 77.9% are white compared to 85.6% of the working-age population and 86% of the total population; 10.7% are Asian compared to 7.2% of the working-age population and 7.5% of the total population; and 6.5% are Black compared to only 3.4% of the working-age population and 3.3% of the total population
Among consultants 59.9% are White compared to 77.9% of NHS employees being White. A huge 29.1% are Asian compared to only 10.7% of NHS employees being Asian. And 2.9% are Black compared to 6.5% of NHS employees being Black. So, Asians are over-represented at this level while Blacks are under-represented
The only under-represented group in our diverse, vibrant, incompetent, profligate, underperforming, collapsing NHS are white males
I think we all know what happens next and it won't be great for patients.
Here's a video I produced a few years ago when the fragrant Cressida was running the Met police into the ground. But I humbly suggest that a similar video could be produced for the equally fragrant Amanda Pritchard: