Friday/weekend blog
Another year, another Covid variant. Yipee!
We're told that there's a new Covid variant on the way and that some of us should get the latest vaccine booster. As far as I know, the latest Covid variant is not much worse than a common cold. Moreover, I believe that there has been absolutely no testing on humans whether the miracle 'safe' and 'effective' vaccines even work against the latest Covid variant. I think there has only been a bit of testing on a few mice. Though I may be wrong.
Yet in spite of the low pathogenicity of the latest variant and in spite of the fact that there have been no human trials of the vaccines' effectiveness against the variant, the regulatory authorities in both the USA and UK seem to have enthusiastically approved the 'safe' and 'effective' (and expensive and extremely profitable for the pharma companies) vaccines for the new Covid-19 variant and some of us are being encouraged to get 'boosted' .
Below are just three charts from Dr John Campbell's September 21st video. They're taken from three of the four main vaccine adverse events databases: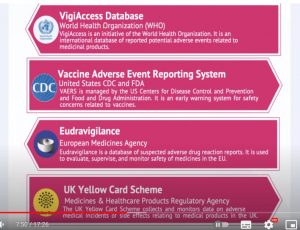 Chart 1: Total number of adverse events for the Covid-10 vaccines compared to three common vaccines from the World Health Organisation VigiAccess database: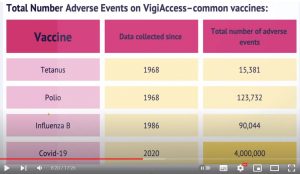 Chart 2: Number of adverse events from four commonly-used vaccines from the European EudraVigilance database:
Chart 3: Risk of death from flu vaccines compared to the Covid-19 vaccines from the USA database: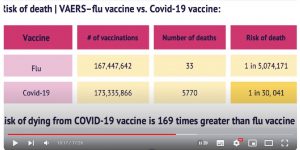 I realise that vaccine adverse effects are hugely under-reported. I also understand that levels of reporting of adverse events may differ for different vaccines. Moreover, with so many stories about how quickly the Covid-19 vaccines were developed and approved, adverse events reporting may be higher for Covid-19 vaccines than more traditional vaccines. So, if the level of adverse events for Covid-19 vaccines was say 10% or 20% or even 30% higher than for other vaccines, then it would be questionable whether the Covid-19 vaccines were actually more harmful than others.
However, the level of adverse events for the Covid-19 vaccines is so many orders of magnitude higher than other vaccines that one might be forgiven for suspecting that there is something to worry about. If we look at Chart 2, (assuming I've got my sums right) there is one adverse event for every 13,766 measles vaccine, one adverse event for every 74,800 polio vaccines. But for the Covid-19 vaccines, there is one adverse event for every 189 vaccines given. Moreover, according to the USA's data (Chart 3), the risk of dying from the Covid-19 vaccine is 169 times higher than dying from flu vaccines.
I believe that in the UK the boster rollout is being confined to older age groups and those considered to be medically vulnerable. But the USA's CDC is still recommending Covid-19 vaccines for anyone over the age of 6 months. Meanwhile in Germany there is so little demand for the boosters that many doctors aren't even bothering to stock them. Confusing?
But, hey, what do I know? As Manuel from Fawlty Towers might say: 'I know nothing'. So please don't let these figures put you off getting the latest 'safe' and 'effective' jab.