weekend blog
I've had a quote in my head for a couple of weeks – "Give a man a stick – eventually he'll beat you with it". I don't know where I got it from. Professor Google doesn't seem to know. Though I did find this when looking for the source of the quote: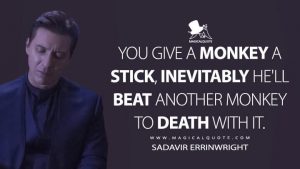 I had no idea who Sadavir Errinwright is or was. But Professor Google informs me that he is a fictional character in a science fiction film set in the 24th century. I suspect the quote above was inspired by the opening scene of the 1968 film "2001 A Space Odyssey":
So, what does this have to do with the price of tea in China?
This phrase "give a man a stick – eventually he will beat you with it" – may be one way of picturing our relationship with our ruling elites – politicians, public-sector employees (please note I don't call them 'civil servants'), journalists and business leaders. For most of our lifetimes, these people – politicians, public-sector employees, journalists and business leaders – have felt the need to pretend that they were acting in our best interests and we have mostly believed them. That was our supposed 'western democratic freedom'. But our craven submission to the lies and ludicrous excesses of the Chinese lab-leaked plague lockdowns has shown these people how easy it is to manipulate us. So our relationship with them has changed. We have given them the stick – power over us – and they are using it to beat us.
As we have seen with the Covid lockdowns and accompanying destruction of our economy and are now seeing with climate change and transgenderism and open-borders immigration and woke-ism and much else, our ruling elites no longer feel the need to even pretend they are acting in our best interests. Instead they claim that they know what is best for us and intend to impose this on us whether we like it or not. The list of unpopular policies being forced on us grows by the day:
Banning the sale of gas boilers when heat pumps are totally useless for most homes
Banning the sale of petrol cars when electric milk floats pretending to be cars are totally useless for most drivers
Destroying cheap and reliable energy sources – coal, oil and gas – when supposed 'renewables' are unreliable and ludicrously expensive
Wrecking our economy and destroying jobs by imposing some of the world's highest energy prices on us
Dissuading us from eating meat
Pushing into 15-minute city ghettoes
Restricting and penalising our use of the ultimate symbol of freedom – our cars
Dissuading us from travel on planes while they fly around the world lecturing us on the need to save the planet
Trying to force farmers to stop farming
Forcing females to share hospital wards, changing rooms, toilets and prisons with men who still have meat and two veg but pretend to be women
Forcing female athletes to compete against men pretending to be female
Sacking thousands of low-paid hotel workers so that hotels can be filled up with illegal, benefits-scrounging migrants
Wrecking communities by flooding them with Third-World invaders
Debanking any customer who dares to have opinions which aren't in line with those of our increasingly B-Corp financial industry
and much much more
Maybe we idealise the past?
But perhaps our ruling elites have always beaten us with the stick we have given them. Yet the way history is written has obscured this. For example, British Empire losses in combat theaters from 1914–1918 were 876,084, which included 418,361 killed, 167,172 died of wounds, 113,173 died of disease or injury, 161,046 missing and presumed dead and 16,332 prisoner of war deaths. Yet there was probably absolutely no need for Britain to enter WWI in the first place. After all, who gives a stuff about Belgium or even France? Yet it was supposedly to protect Belgian neutrality and France that Britain went to war. We should have just let the Frogs and Krauts beat each other to a pulp and then Britain would have emerged as Europe's richest, greatest power instead of being crippled and bankrupted by involvement in a totally unnecessary war. Nevertheless millions of young men were nudged, browbeaten and coerced into possibly sacrificing themselves in a completely unnecessary war: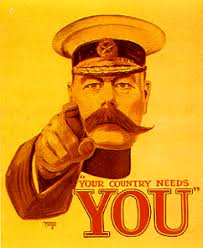 Then there was WWII, in which over 384,000 British died and the British economy was wrecked yet again. This was really just a continuation of WWI. After all, it was the French Field Marshall Foch who warned at the end of WWI that the end of the war was "not a peace, it is an armistice for twenty years". And he was only out by a couple of months.
Maybe our ruling elites have always made catastrophic mistakes which have impoverished and ruined their people while the elites got ever richer at our expense?
As I have written previously, I suggest that the period from 1945 to around 2010 was an historical anomaly – a period during which most people thought that the ruling elites acted in the best interests of the majority. But that has changed. Our ruling elites are back to their old habits of making catastrophic mistakes – believing in the nonsense of man-made climate change, that women can have penises and men can get pregnant, that multi-culturalism enriches a society, the only evil westerners practised slavery, that all colonialism was bad and that there is only one correct way of thinking about any issue.
And even though all these are complete and obvious nonsense, our ruling elites are using the stick we have given them – power over our lives – to impose their misguided, self-serving bilge on us.