Friday/weekend blog
Wrong information = wrong decisions
I imagine it's obvious to my readers, but not to any of our useless politicians that, if you get the wrong information, then you'll most likely make the wrong decisions. This is why lying climate catastrophists use a wide variety of tricks to fool us into believing their nonsense about supposed climate change.
I'll illustrate this with three examples from my book THERE IS NO CLIMATE CRISIS
Trick 1: Hiding inconvenient data
Here's a chart of acreage burnt in US forest fires since the end of the 1970s:
And here's a 2016 article from the New York Times panicking about the increasing severity of US forest fires. The article tells us that the 10.1 million acres burnt in 2015 'were the most on record':
Looking at this information, you could be forgiven for being seriously worried about the problems climate change will cause.
But here's another chart of US forest fires, this time starting at 1916:
And here's an article from the New York Times from 1938 reporting that 21,980,500 acres were burnt – rather more than 2015's supposed record of 10.1 million acres: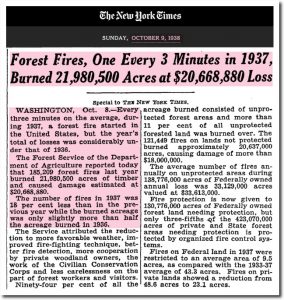 Given this information, you'd realise that the scorching 1920s and 1930s were much hotter than anything we're experiencing this century.  So there was absolutely no problem from supposed climate change. What the climate catastrophists have done is to hide the data which blows their whole crazed cult out of the water:
Trick 2: Propaganda instead of facts
If you were to believe the propaganda spewed out by the climate catastrophists, you'd think that many of our coastal cities and farmland would soon be inundated by rising sea levels:
But if you looked at the facts you'd see that sea levels have actually almost plateaued after large rises since the last glaciation: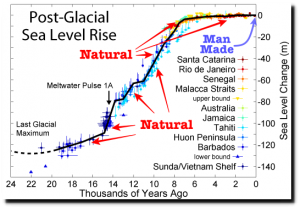 Sea levels have only risen by around 1 cm over the last 120 years and there has been no discernible increase in the rate of sea-level rise: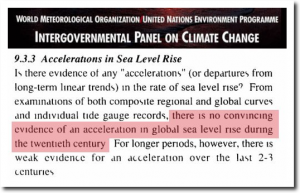 Then you'd realise that the doom-and-disaster claims of the climate catastrophists: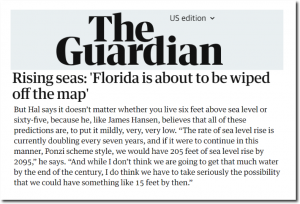 Are a load of nonsense and that there is absolutely no need to spend billions supposedly protecting the world's coasts from sea-level rise.
Trick 3: Using GIGO models
That brings us to the climate models on which our rulers are basing their decisions to commit economic suicide in the rush to 'Net Zero'. One study of over 100 climate models showed they all had an almost Fergusonian level of uselessness.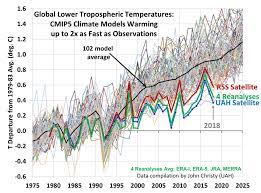 The climate is probably warming by about 1ºC every century (the blue, green and red lines on the chart above) as we move out of the last ice age. But the models all predict levels of warming (the black line on the chart above) which are twice as fast as the actual level of warming measured by ground stations and satellites. And the reason all the models are consistently wrong is that they are all based on the mistaken assumption that rising atmospheric CO2 will inevitably lead to rising temperatures – a perfect illustration of GIGO (Garbage In, Garbage Out) or to use a more technical expression – BIBO (Bollox In, Bollox Out).
Lying climate catastrophist liars will cause a real catastrophe
I give many more examples in my book of the tricks climate catastrophists use – misrepresenting the data, fiddling the figures and even outright lies – to hustle our politicians into cravenly implementing policies which will cause a real catastrophe – the deindustrialisation, enfeeblement and impoverishment of the West handing control of the world to the Chinese and their chums in such delightful countries such as Russia, Iran, North Korea, Brazil and Pakistan.
Catastrophist propaganda from the BBC
And to finish off this blog about the lies the lying climate catastrophists use, here's a truly terrifying 3-minute video from the British Brainwashing Corporation indoctrinating children and parents with climate-catastrophist nonsense:
https://www.bbc.co.uk/ideas/videos/how-to-talk-with-children-about-climate-change/p0fgdjtz