Sunday/Monday blog
Apparently there was some kind of public consultation (in 2020 or 2021, I think) about ending the sale of petrol, diesel and hybrid cars in Britain. And apparently the consultation miraculously concluded that we were all enthusiastic about this great planet-saving idea.
I give a link at the end of this blog to the full government report from the consultation about how much we all support this tremendously important and popular initiative. I haven't bothered reading it as I can imagine the lies and total nonsense contained therein. However, I include below the 'Ministerial foreword' signed by those two scientific geniuses – Grant Shapps and Khazi Kwarteng.
I find this 'Ministerial foreword' illuminating as it reveals either the complete self-delusion or else the cynical dishonesty of just a few thousand people in politics, the media and academia – probably less than 0.05% of the population – who rule us and who are hell-bent on wrecking Britain's economy, impoverishing the country and ruining the lives of over 67 million people supposedly to fight a demon which doesn't even exist.
But as American journalist, essayist, satirist and cultural critic, H. L. Mencken warned us: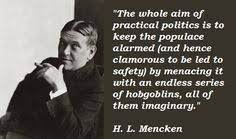 The only conclusion you can reach is that our ruling 0.05% are evil or insane or both.
A cynic might think that throughout human history superstition (dressed up as 'religion') has been used to keep the masses in their place while the richest 0.05% looted and extorted their societies' wealth. But now, as religion has fallen out of fashion in the West, we have a new superstition – a new cult – the cult/superstition of end-of-times climate crisis which the elites are using to control us, impoverish us and maintain their power over us.
Anyway, here's an insight into the thinking or the dishonesty of the liars, fools and knaves who seek to regulate every aspect of our lives.
The whole piece is ludicrous. But I have highlighted in red the bits I find the most asinine:
Ministerial foreword
In 2019, the UK made history by becoming the first major global economy to pass legislation to end our contribution to climate change. Delivering 'net zero' emissions will require drastic action across all sectors of the economy.
In 2018, cars and vans accounted for nearly a fifth of the UK's total emissions. Tackling these emissions is critical if we are to successfully achieve our climate change goals.
That is why the Prime Minister, as part of his 'Ten point plan for a green industrial revolution', has announced we will end the sale of new petrol and diesel cars and vans by 2030, with all new cars and vans being fully zero emission from 2035.
This historic step will significantly reduce carbon emissions to safeguard our planet, reduce harmful pollutants in our towns and cities, create opportunities for our economy and boost our mission to level up across the country. This transition will be matched by the transformation of our energy sector. We recently published the energy white paper, which represents a decisive shift away from fossil fuels towards cleaner energy sources.
Moving millions of vehicles to zero emissions is an enormous challenge. Government has already committed £1.5 billion to boost the early market, but now we are going further. We are backing our new phase out dates with over £2.8 billion of investment to drive up the number of zero emission vehicles, accelerate the roll out of our world-class chargepoint infrastructure network, and to secure investment in gigafactories and other strategic technologies to develop the UK's electric vehicle supply chain.
The global momentum towards zero emission vehicles is unstoppable. The UK is on course to be the fastest G7 nation to decarbonise cars and vans, and we want to see other countries following our lead. Through our leadership of COP26 in Glasgow this year, we will bring about the international collaboration needed to deliver a climate-resilient, zero carbon economy.
The coronavirus pandemic is impacting all aspects of our lives and economy, but it has not changed the fact that climate change is among the greatest challenges of our age. We must act, and act now, to ensure that the temporary reduction in harmful emissions we saw from road transport last year is not short lived. We owe it to future generations to build back better, build back greener and secure a sustainable recovery.
We will work in partnership with our world-leading industries to achieve the most fundamental change to transport in over 100 years. We have made strong progress; we must now accelerate to secure a cleaner, greener and more prosperous United Kingdom.
The Rt Hon. Grant Shapps MP
Secretary of State for Transport
The Rt Hon. Kwasi Kwarteng MP
Secretary of State for Business, Energy and Industrial Strategy
https://www.gov.uk/government/consultations/consulting-on-ending-the-sale-of-new-petrol-diesel-and-hybrid-cars-and-vans/outcome/ending-the-sale-of-new-petrol-diesel-and-hybrid-cars-and-vans-government-response
Neil Oliver says what nobody else dares to say