Tuesday/Wednesday blog
They're not 'abandoned', they're just stupid
Just before I write my blog, I thought I might not be the only person who is getting utterly fed up with people going to the world's most violent, dangerous hell-holes and then bleating that they've been 'abandoned by the British government' when they inevitably get into trouble. Every single media report about the current situation in Sudan claims that around 4,000 British citizens have been 'abandoned by the British government'. Sorry, but if you want to visit another country, it's sort of inadvisable to choose Sudan or Eritrea or North Korea or Afghanistan or Iran or other similar earthly paradises.
Moreover, I suspect that several of these 'abandoned' 4,000 supposed Brits are actually former asylum seekers (illegal migrants) from Sudan who were given British citizenship because they claimed their lives would be at risk if they were sent back to Sudan. And then, when they had their dual nationality, they tend to take their holidays visiting their families back in the country they previously claimed was too dangerous for them.
As for that (IMHO) awful Iranian woman and her (IMHO) equally ghastly husband – I imagine legal issues would prevent me from commenting on her (IMHO) self-inflicted disaster for which she and her husband seem to me to have repeatedly blamed the British government.
But, of course, nobody takes responsibility for their own stupidity nowadays.
Sie sind verrückt, völlig verrückt
A couple of weeks ago, Germany closed its last nuclear power station. The decision to accelerate shutting down Germany's nuclear industry was taken by the delectable Angela Merkel in May 2011 after the March 2011 Fukushima tsunami disaster. Eight of Germany's seventeen nuclear power stations were closed that year. It seems that Ms Merkel didn't have an atlas to hand when she made this brilliant decision. If she had, she might have noticed that:
Japan has 29,751 kilometres of coastline, whereas Germany has only 2,389 kilometres
Almost all Japan's nuclear power stations are on the coast, most of Germany's are inland
Japan is situated on the Pacific 'Ring of Fire' were earthquakes and tsunamis are common, Germany probably hasn't had an earthquake or tsunami for the last 20 million years if ever
Of course, at the time, Merkel's predecessor as Chancellor, Gerhard Schröder, was on the board of Russian energy giant Gazprom which would supposedly ensure a continued supply of cheap gas from Russia to Germany. I attach at the end of this blog a link to the brief section of a speech President Trump gave at the UN when he warned that Germany was becoming too dependent on Russian gas. How the German delegation giggled and smirked at Trump's 'stupidity'.
Das war eine teure Entscheidung
The German Ministry for Economics estimated that the cost of replacing the lost nuclear power would be about €55 billion. But then the operators sued the German government for the revenue they would lose from early closure of their power stations and got about €2.5 billion in compensation generously handed over by German taxpayers.
At the time Merkel claimed: "As the first big industrialised nation, we can achieve such a transformation toward efficient and renewable energies , with all the opportunities that brings for exports, developing new technologies and jobs".
The main result of closing down Germany's cheap and reliable nuclear power stations and trying to replace them with useless, unreliable expensive wind and solar power has left Germany with some of the highest electricity prices in the world even before Mr Putin invaded Ukraine: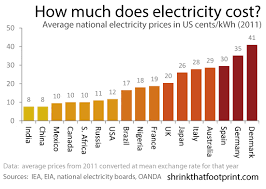 And every year the taxes and levies heaped on Germany's power prices increases to pay for the Energiewende – defined by Wikipedia as 'the ongoing transition by Germany to a low carbon, environmentally sound, reliable, and affordable energy supply':
From what I understand, the red and yellow bits on the chart below represent the real cost of generating and supplying power in Germany. All the other stuff are special taxes and subsidies and so on to pay for the move from reliable and cheap energy to unreliable and expensive energy:
The head of Germany's largest power company warned that relying on solar in Germany was like trying to grow pineapples in Alaska.
And now Germany is desperately trying to reopen old coal-fired power stations, even going as far as dismantling a windfarm to make way for the expansion of a massive open-cast coal mine: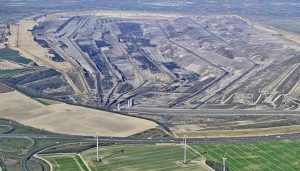 Perhaps there's a lesson here for Britain as our clueless rulers push us in the same disastrous direction as Germany?
How they laughed at Trump
And here's that excellent moment when the German delegation at the UN smirked and giggled when Trump warned them that they had become too reliant on Russia for their energy. I wonder if they're still laughing?