Monday/Tuesday blog
I'm running a bit late today, so I'll keep this short.
Why did we lock down?
We all know that Britain went into economically-disastrous lockdowns to supposedly avoid the hundreds of thousands of deaths from the Chinese lab-leaked plague predicted by the Bonking Boffin at Imperial College. And, I'm sure you all remember how Sweden chose a different path avoiding lockdowns and preferring to keep life as close to normal as possible.
Hopefully you'll all also remember how at press conference after press conference our 'journalists' lambasted Boris Johnson for not locking down harder and faster. I'd like to name some of those journalists, but worry about the legal implications so I won't. Hopefully you'll know who they were.
What I haven't seen from our lockdown-loving politicians, medical experts and journalists is any analysis of whether lockdown Britain performed any better than no-lockdown Sweden in terms of avoiding excess deaths. So I thought 'd spend just a couple of minutes digging up the data.
Here it is. This is a chart comparing excess mortality for the UK and Sweden as a percentage increase in the expected number of deaths: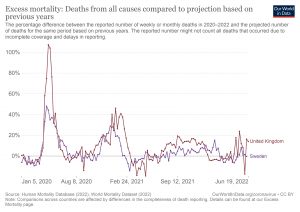 (to see chart in glorious widescreen technicolour, left-click on it and then left-click again)
Ooops and double oooops!
There seem to be two interesting issues emerging from this chart:
Excess mortality in the UK and Sweden followed very similar paths
Excess mortality has consistently been significantly higher in lockdown Britain than in no-lockdown Sweden
Of course, there could be several factors for lockdown UK having a higher excess mortality rate than no-lockdown Sweden. These could include things like the UK's greater population density and higher rates of obesity and general ill-health in the UK population.
But even taking these factors into account, the chart does suggest that the ruinously-expensive, economy-wrecking lockdowns imposed in the UK had absolutely no beneficial effect in reducing excess mortality rates and may even have increased them by isolating people in their homes and discouraging people from seeking medical attention for conditions like cancers and strokes.
It's a pity none of our useless politicians, now-knighted medical experts and supposed 'journalists', who were so keen on having us all locked down, have managed to find just a few minutes to produce the chart that I have made. Then maybe they could have apologised to us for getting things so wrong and helping ruin many thousands of businesses and hundreds of thousands of hard-working people's lives.
Will the UK really reach 41ºC on Monday and Tuesday?
I know you should never make predictions, especially about the future. But I can't help wondering if the UK's temperature really will hit 41ºC on Monday ad Tuesday and kill thousands of people.
It will be interesting to see if this actually happens or whether all the dire warnings from our climate-catastrophist political rulers, the useless Met Office and our net-zero-propagandising mainstream media were all a load of scientifically-ignorant, control-the-plebs fear-mongering.
I suspect the latter will be the case.
If so, will our incompetent political leaders, the 'experts' at the Met Office and the hyperventilating, panic-stoking journalists apologise?