Friday blog
As this is a bit of a continuation of my Wednesday/Thursday blog, I'll just leave this one up for one day.
Floods – Australian government's response
Faced with massive flooding, which has caused around 50,000 Australians to leave their homes, Australia's government have to choose between two possible courses of action:
Solution 1 – Improve flood management and water retention schemes
The Australian government could look at the weather history from the last 150 years and notice that their country's weather seems to alternate between floods and droughts: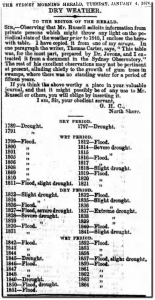 (to see article more clearly left-click on it, then left click again)
Or the politicians could even look at a poem "My Country" by Australia's most famous poetess Dorothea Mackellar written in 1904 when she was 19 years old and which contains the verse:
I love a sunburnt country,
A land of sweeping plains,
Of ragged mountain ranges,
Of droughts and flooding rains.
I love her far horizons,
I love her jewel-sea,
Her beauty and her terror –
The wide brown land for me!
Noticing that Australia's weather seems to alternate between floods and droughts, Australia's government could then decide that they should spend billions of Australian taxpayers' money improving the country's water management systems – building dams and flood defences, prohibiting housing on flood plains etc etc – both to mitigate future floods and better conserve water for inevitable future droughts.
Solution 2 – Change Australia's climate by cutting CO2 emissions
The other possible solution to Australia's floods and droughts would be to change the world's climate by spending billions of dollars of Australian taxpayers' money reducing the use of cheap, reliable fossil fuels and moving to expensive, unreliable supposed 'renewable energy'.
Here are Australia's  annual CO2 emissions compared to two nearby neighbours – China and India:
(to see chart in glorious widescreen technicolour, left-click on it, then left click again)
I think you can already guess which of these two solutions the new Australian Labour government, enthusiastically cheered on by most of Australia's mainstream media especially the ABC (Australia's version of the UK's BBC), has chosen. Though I suspect the previous Scott Morrison Liberal government would have done exactly the same idiotic thing.
The world has gone mad
How the world's two great dictators – Xi PingPong and Vlad 'The Impaler' Putin must be laughing: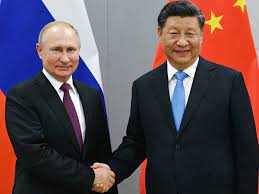 I bet the two great dictators can hardly believe their luck as the advanced democratic West has a self-inflicted nervous breakdown and commits economic and societal suicide in the utterly futile battle to fight a totally imaginary threat – Global Warming or Climate Change or Climate Emergency or Climate Crisis or whatever it's called this week.
The world has truly gone mad.
Here is Sky News Australia in despair at the Australian government's Brobdingnagian stupidity. Sadly nobody in any UK mainstream media would dare question the ludicrous climate change cult like Sky News Australia: