Monday/Tuesday blog
How was your pandemic? Did you become a lot richer? Probably not.
America – From billionaires to squillionaires
As the U.S. crossed the grim milestone of 1 million deaths from Covid-19, U.S. billionaires have seen their combined wealth rise over $1.7 trillion, a gain of over 58 percent during the pandemic. While billionaires have seen their wealth surge, a million have lost their lives and millions more lost their livelihoods.
On March 18, 2020, at the beginning of the formal lockdown, U.S. billionaires held a combined $2.947 trillion. On May 4, 2022, as the U.S. crossed the 1 million death mark, according to an analysis by NBC, 727 U.S. billionaires were worth $1.71 trillion more, according to Forbes.
Elon Musk, who had wealth valued just under $25 billion on March 18, 2020, saw his wealth increase to $255 billion as of May 4, 2022.
Between March 18, 2020 and May 4, 2022, the following increases in wealth have occurred:
Jeff Bezos saw his wealth rise from $113 billion to $150 billion.
Bill Gates experienced a wealth increase from $98 billion to $129.8 billion.
Three members of the Walton family — Jim, Alicem and Rob — have seen their combined assets rise from $163.1 billion to $207.7 billion.
(left-click on chart, then left-click again to see more clearly)
Not only did the wealth of U.S. billionaires grow, but so did their numbers: in March 2020, there were 614 Americans with 10-figure bank accounts. Two years of pandemic later, there were at least 727, though other estimates put the number at 745.
Britain – The rich get richer
There has been a similar pattern in Britain.
Britain created a record number of billionaires during the coronavirus pandemic as wealth surged despite a year of economic turmoil for ordinary people. In 2021 there were 171 billionaires in the UK, 24 more than before the pandemic and associated lockdowns. Moreover, the combined wealth of billionaires in Britain grew by more than one-fifth.
It's the same the whole world over
In fact, across the world, the ultra-rich seem to have had a wonderful pandemic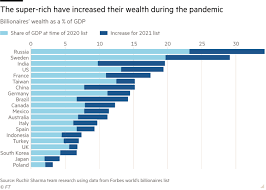 Fleeced again and again and again?
While the rich now have so much money they would need a supercomputer to count it all, ordinary people are being crushed by rising fuel and food prices. And anyone with savings is seeing the value of their money evaporate. Yet while forcing this destruction on us, our rulers are telling us that we all (not them) have to make sacrifices and accept a lower standard of living.
Here's Tory MP Therese Coffey: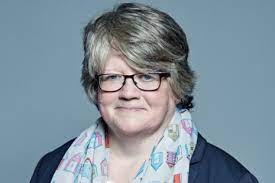 A few days ago, she suggested that 'wealthy pensioners' should hand back their next year's pension increase of about £1,000 to HMRC if they felt they didn't need it. Hey Ms Coffey, how about all MPs with a Bodily Mass Index (BMI) putting them in either the 'overweight' or 'obese' categories hand back 20% of their salaries to HMRC? That might help the MPs lose weight and become a lot healthier.
As the old rugby song put it:
It's the same the whole world over
It's the poor wot gets the blame
It's the rich wot gets the pleasure
Ain't it all a bleeding shame? 
Although most people won't be aware of how much richer the rich have become while the rest of us were imprisoned in our homes being increasingly impoverished, there seems to be a feeling that somehow ordinary people are being exploited and abused by our preachy rulers and their hypocritical jet-setting multimillionaire chums. Perhaps that's why Mick Lynch of the RMT is probably more popular than any of our Westminster rulers?
Once again Neil Oliver tells it as it is
Here's the brilliant Neil Oliver from a couple of weeks ago explaining the new facts of life:
(I don't quite understand the piece about writing off debts towards the end of the video, but I believe the rest of the video is pretty well-aimed)