Wednesday/Thursday blog
First, just a small observation before the main bit of the blog
Did you survive last week's deadly storms?
This story may seem trivial. But I think it does indicate something quite important.
It's lucky we all have short memories. After all, I wonder how may readers remember the headlines from last Wednesday (22 June) – typical were:
"UK weather: Met Office severe weather warning for thunderstorms and torrential rain"
and
"UK weather: Thunderstorm warning issued by Met Office with torrential downpours and risk of floods"
and
"The dangerous weather comes amid Britain's worst rail strikes in 30 years"
And we were warned: "large swathes of the country could be hit by dramatic thunder, lightning and heavy downpours anytime from 11am onwards. Today's storms are also predicted to cause flooding, with up to 60mm of rainwater falling in the space of two to three hours".
Did it even rain last Wednesday as the Met Office predicted? I can't remember. Were there any floods? I don't think so. Was anybody killed in the supposedly 'dangerous weather'. Not that I can remember. In fact, Glastonbury, which usually turns into a mud bath, was fairly dry this year.
So, what is going on? I think there are two issues here:
The Greta-worshipping climate catastrophists at the Met Office are so obsessed with propagandising the supposed 'Climate Crisis' that they automatically assume every rainstorm will be more severe and more dangerous than anything ever experienced
Some sections of the mainstream media are so desperate to push the supposed 'Climate Crisis' on us that they deliberately exaggerate every weather story to make it seem as if some kind of climate Armageddon is about to destroy us all
And, of course, the whole thing is nonsense.
The climate catastrophist bias of the mainstream media is becoming so obvious that it's almost embarrassing. Over the last few weeks, you might remember horror stories of record high temperatures in India and Crapistan. These were supposedly proof of our overheating planet. But none of our media thought it worth reporting that Australia has just had its coldest start to its winter since about 1918 and this year there is so much snow that some Australian ski resorts have been unable to open:
(left-click on image and then left-click again to see the text more clearly)
Again and again and again, the only weather stories we get from the media are those which seem to support the climate catastrophist narrative and any stories which undermine it are deliberately and dishonestly suppressed.
Mentioning the unmentionable?
I have previously featured this table: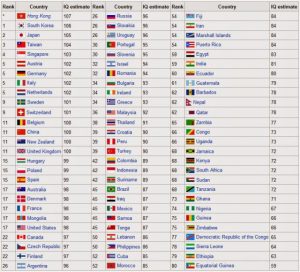 (left-click on image and then left-click again to see in glorious widescreen technicolour)
It purports to show the average IQ by country.
I have also used this chart: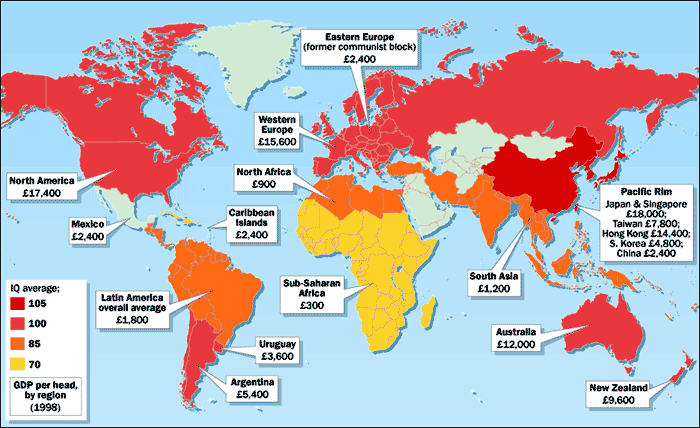 If you accept the figures on the chart above, it seems to suggest that there could be a link between a region's average IQ and its average GDP per capita.
Of course, to suggest this is obviously racist. Or is it?
Even if we assume that the Bell Curve distribution for all new-born children of every race from every part of the world is exactly the same, we also know that IQ is a result of both heredity and environment. So, even assuming that all children have the same hereditary level of IQ, that still leaves environment as a factor in the likely level of a person's IQ.
For example, 100 children of Oxford or Cambridge academics coming from homes full of books and which set high store on the value of education are likely to develop on average higher IQs than 100 children living in mud and straw huts in an African village where they only get 2 to 3 years very basic education.
Similarly, 100 children growing up in a developed country with a high GDP per capita and thus a good education system (like Finland or Singapore) are likely to develop higher IQs that 100 Indian Dalit ('untouchable') children from impoverished homes excluded from proper education.
So, even if we believe that the Bell Curve for all new-borns from all races is exactly the same, we should still accept that issues like culture, material well-being and educational opportunities will inevitably affect average IQ levels.
Moreover,  descriptive data indicate that in addition to being much more likely to suffer from birth defects, the mean IQ in children of consanguineous marriages can be in the order of 2.5 to 10 IQ points lower than those of non-consanguineous marriages: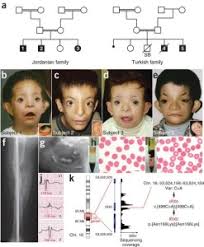 Here's the admirable Simon Webb tiptoeing around this taboo subject: