weekend blog
Something most curious is happening with the Wuhan lab-leaked plague in Israel. The more people get 3rd and 4th WuFlu jabs, the higher the number of WuFlu cases seems to be.
If I remember correctly, Israel did a deal with Pfizer early on in the pandemic such that Israel would get lots of the Pfizer Chinese plague jabs and in return Israel would provide Pfizer with lots of real world data on things like Covid infection rates. I also understand that Israel started jabbing before most other countries and Israel is the most jabbed country in the world. The population is 9.2 million. Of the 9.2 million 6,710,075 million people (probably most of the adult population) have had a least two vaccination shots, while 4,495,077 million have had three, and 813,632 have had four.
Here's the latest chart of Covid-19 cases per million of the population for Israel: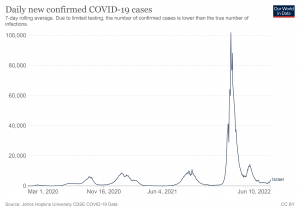 (to see charts more clearly, left-click on the chart once, wait till a small version appears, then left-click again and you'll have the chart in glorious widescreen technicolour)
As you'll see, there was a massive spike in infections per million of the population at the start of 2022. I suppose this must have been when the Omicron variant spread.
To put the Israel Omicron spike into context, here are the infection per million of population rates for a few other developed countries:
Now, all these countries are pretty close in levels of Covid infections, though heavily-vaccinated Israel is second highest. But please note how much higher the Omicron spike in heavily-vaccinated Israel is compared to other developed countries – Israel is several times higher than most of the other countries.
Why did Israel have so many infections?
There are two main theories as to why the infection rates in heavily-vaccinated Israel spiked so much higher than in other countries:
Or, of course, the large Israel spike may be due to a combination of the above.
However, the "fact checkers" at Reuters and the Big Tech companies have been busy claiming that multiple Covid jabba-jabs do NOT weaken the body's immune system.
"COVID-19 vaccines do not weaken your immune system's ability to respond to other infections so getting your jab will not make you more susceptible to colds or flu," said Dr Doug Brown, chief executive of the British Society for Immunology. "After COVID-19 vaccination, your immune system is just as able to fight off infections by cold or flu viruses, and it will be better prepared to protect you against COVID-19."
So the massive infections spike in Israel will forever remain a mystery.
Better than Mad Cows?
If I remember correctly at the time of the 'Mad Cow' disease outbreak in the UK, our rulers had a choice – either slaughter 6.5 million cattle or else vaccinate them. The choice was made to slaughter rather than vaccinate.
Perhaps we should consider ourselves lucky that with the Wuhan Mad Chinaman disease, our rulers decided we should be vaccinated rather than slaughtered?  After all, the untested and largely ineffective vaccines will only kill a few people.