Thursday/Friday blog
There's good news and bad news this week for Aussie climate catastrophists.
First the bad news:
Bad news – Catastrophists' predictions always wrong
Australia's climate catastrophists, like climate catastrophists the world over, have a habit of making bloodcurdling predictions of imminent disaster that invariably turn out to have been total nonsense.
Here, for example, is the 'Head of Climate Analysis' at the Australian Bureau of Meteorology quoted in the Sydney Morning Herald in January 2008 predicting that droughts would be the new normal weather in Australia:
And here's the UK Guardian newspaper a couple of years later reporting that the Australian floods of 2010 and 2011 were so severe that they caused the world's sea levels to drop "by as much as 7mm":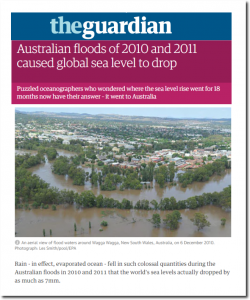 Not much evidence of eternal drought there
Good news – Dumb Aussies believe climate voodoo, not facts
The good news for Australian climate catastrophists is that so many Australian have been indoctrinated to believe the climate catastrophist nonsense that they refuse to accept what is actually happening. In spite of Aussie climate catastrophists, like climate catastrophists everywhere, always being hopelessly wrong with 30 to 40 years of doom-and-disaster predictions, Australians have just elected a Labour government whose number one priority is cutting Australia's CO2 emissions to supposedly fight the supposed "climate emergency".
At the moment, Australia is experiencing its coldest start to its winter for over 40 years and the country is expecting a record ski season. But the majority of the dumbo Bruces and Sheilas are convinced they're all about to die in a global warming inferno caused by evil humans' activities.
In Australia, as in many Western countries, people are so brainwashed by the climate catastrophist mainstream media and the Saint Greta brigade that they're no longer capable of accepting facts when these facts contradict their beloved climate catastrophist propaganda. (Meanwhile, the rather more sensible Indians have recently reopened about 100 coal mines to power their growing economy):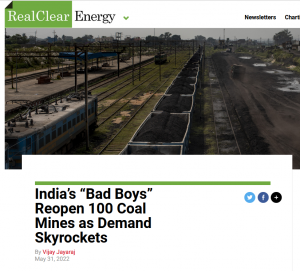 When historians look back on the late 20th and early 21st centuries, perhaps they will call this period the "Age of Idiocy"?
Here's the excellent Andrew Bolt from the excellent Sky News Australia trying to make sense of his compatriots' stupidity: